Timeless Fashion: The Answer to Fast Fashion?
Designers used to spend months, even years putting together a collection for two fashion seasons: spring/summer and fall/winter. Clothing production used to be slower, and garments were made with greater emphasis on quality and longevity, so that you could keep and wear them for years to come. Today, fast fashion has blown up the two fashion seasons into some 52 "microseasons". New trends are released weekly by large apparel companies with an objective to make you constantly feel behind-trend and out-of-style with their prominent marketing campaigns and daily turnover of cheap, low-quality merchandise.

Companies of this size should make more of an effort to support sustainability practices, this shouldn't only include the materials they use for their garments, but the overall design to retail structure as a whole
The fast fashion model is unsustainable in every way: it's bad for the environment, it's bad for factory workers and, when you add up the cost of every fast fashion item you bought, bad for you and your wallet. After hundreds, even thousands of dollars spent, with fast fashion you end up with a heap of cheap, throwaway clothing destined for the landfill.

The main problem with fast fashion is its expiration date: fast fashion clothing by design is intended to fall apart after one wash. According to a McKinsey report, the average fashion consumer bought 60% more clothing items in 2014 compared to 2000, but only kept each item for half as long. And while individual prices are cheaper, a fast fashion wardrobe often ends up costing the consumer much more compared to the alternative. The solution? Our concept of clothing ownership should return to how it was before fast fashion exploded in the early 2000s. In order to do that, we need to replace fast fashion with what is called "timeless fashion".

Andrey Omelich, a co-founder of CODOGIRL, and with 20 years of Investment Banking experience shared his thoughts: "Society is beginning to recognize the impact that our abundant use of clothes is having on the environment and we are beginning to make more conscious choices when shopping for clothing. Budget is still and will remain a key factor, but our habits are certainly changing. The younger generations tend to be more in tune with the idea and as they burgeon and their incomes rise the industry will have no choice, but to pay attention and adopt more environmentally friendly practices. It is inevitable.
This will have a negative impact on gross margins, no doubt, but the companies that will listen to their customers and adopt eco-friendly practices early will be rewarded with top line growth in the mid to long term."
What is Timeless Fashion?
Timeless fashion, like "classic" fashion, implies design that always remains on trend. Timelessness applies to iconic, centerpiece items, built to last the test of both time and trend. Timeless fashion can include quality cashmere sweaters, classic Chanel 2.55 flap bags and tweed suits, Hermes scarves etc. Timeless fashion does not only refer to specific items or pieces, but timeless fashion trends themselves. Floral prints, neutral tones, blazers, and black caviar leather handbags - these timeless styles have always been trendy and show no signs of becoming dated.
What many people don't know is that obtaining these high quality, timeless outfits and designer items is not as difficult or expensive as they might think. Thanks to the newly emerging online designer resale market, consumers can skip the fast fashion and instead invest their fashion budget into gently pre-owned designer fashion, saving up to 70% off of the retail price. Instead of a pile of cheap throwaway fast fashion, you could get yourself a few timeless pieces that not only beat every microtrend, but also last for years!


Chanel tweed jackets are always in style, and with their incredible quality they'll last forever! Note the fine construction and attention to detail in the close-up pictures. This is why Chanel tweeds retain high resale value and are always in demand.
Why invest in Timeless Fashion?
It is the perfect alternative to fast fashion. Instead of buying worthless clothing, when you invest your money into a pre-owned designer item, you are getting something of value in return for your dollar. That way, whenever you get bored and want something new, you can sell it and put that money towards another timeless piece.

Some timeless pieces actually go up in value over time, so your fashion choice can become an investment. The Chanel flap is a prime example: their value only increases over time, however they will always be in style. The same goes for Hermes and Louis Vuitton, whose limited production and incredibly high quality keeps the demand super high. This is especially true of Hermes Birkin and Kelly handbags in desirable, neutral colors like black, beige/taupe, brown and deep Hermes orange. Birkin and Kelly bags have been made of the same top-quality materials for decades, making them perfect complements to your timeless outfits. To learn more about these amazing handbags, be sure to check out our Hermes Birkin and Kelly Guide.


From left to right: Hermes Taupe 35 Birkin, Hermes Green 35 Kelly, Louis Vuitton Monogram Deauville PM. All three handbags are perfect examples of timeless fashion: they'll last a lifetime, and are guaranteed to get awe-inspired stares from passersby regardless of which of the 52 microseasons you are in. Similarly, their resale value is incredible and also goes up with time.


5 Best Timeless Handbags of 2020:
● Hermes Kelly Bag
● Chanel 2.55 Flap
● YSL Lou Camera Bag Crossbody
● Louis Vuitton Mini Pochette
● Dior Oblique Jacquard Saddle Bag

These 5 handbags are perhaps the hottest bags of 2020. Of course, the Hermes Kelly and Chanel 2.55 will likely remain on top or near the top of the timeless list for many years to come, but other notable contenders from YSL, LV and Dior are making the list this year due to their immense popularity through the 2020 season.


Where can I get Timeless Fashion?
You want to buy timeless fashion not only because of the superior quality, style and durability of the garments and accessories, but also for the intrinsic value these pieces have. Therefore, the authenticity of these items is key; a knockoff or counterfeit of a high-end designer piece is no different from fast fashion.
Vintage handbags, garments and accessories are some of the highest quality pieces; they don't make them like they used to anymore. In fact, Chanel bags made before 2009 actually used real gold in their hardware! That, along with the incredibly high quality construction of vintage handbags, makes them highly sought after to this day, especially if they are in good condition (likely, many of them will be!)

To ensure what you're buying is the real deal, it is a good idea to deal with reputable sellers who have a money-back authenticity guarantee. Over the last decade, the luxury designer resale industry emerged and has established itself as a credible and affordable alternative to both fast fashion and retail. If you would like to learn more about buying on the designer resale market, be sure to check out our designer handbag buyers' guide. And if you have timeless fashion you want to sell, we have a sellers' guide for that, too.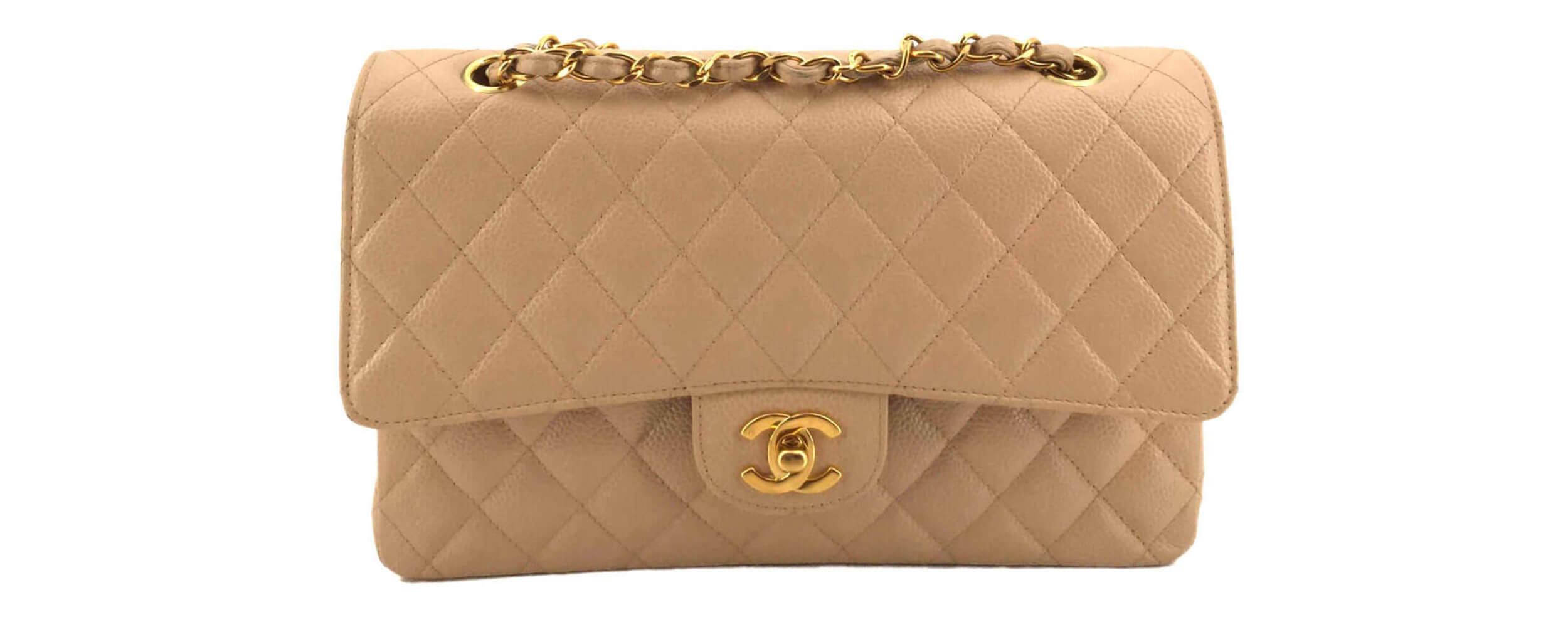 Pictured: This gorgeous example of a Chanel 2.55 Double Flap Beige Caviar bag was made in the year 2000! That's right, this almost 20 year old bag still looks incredible and maintained a resale price as of 2019 of nearly $4,000! This Flap's hardware was made by Chanel's artisans with real gold, and the leather is so high quality that it retained its shape and luster after nearly two decades.

To ensure what you're buying is the real deal, it is a good idea to deal with reputable sellers who have money-back authenticity guarantees. Over the last decade, the luxury designer resale industry emerged and has established itself as a credible and affordable alternative to both fast fashion and retail. Always be on the lookout for vintage, because this is where you can get the best deals.

Comments
Right