Build a Capsule Wardrobe - a Practical Way to Fashion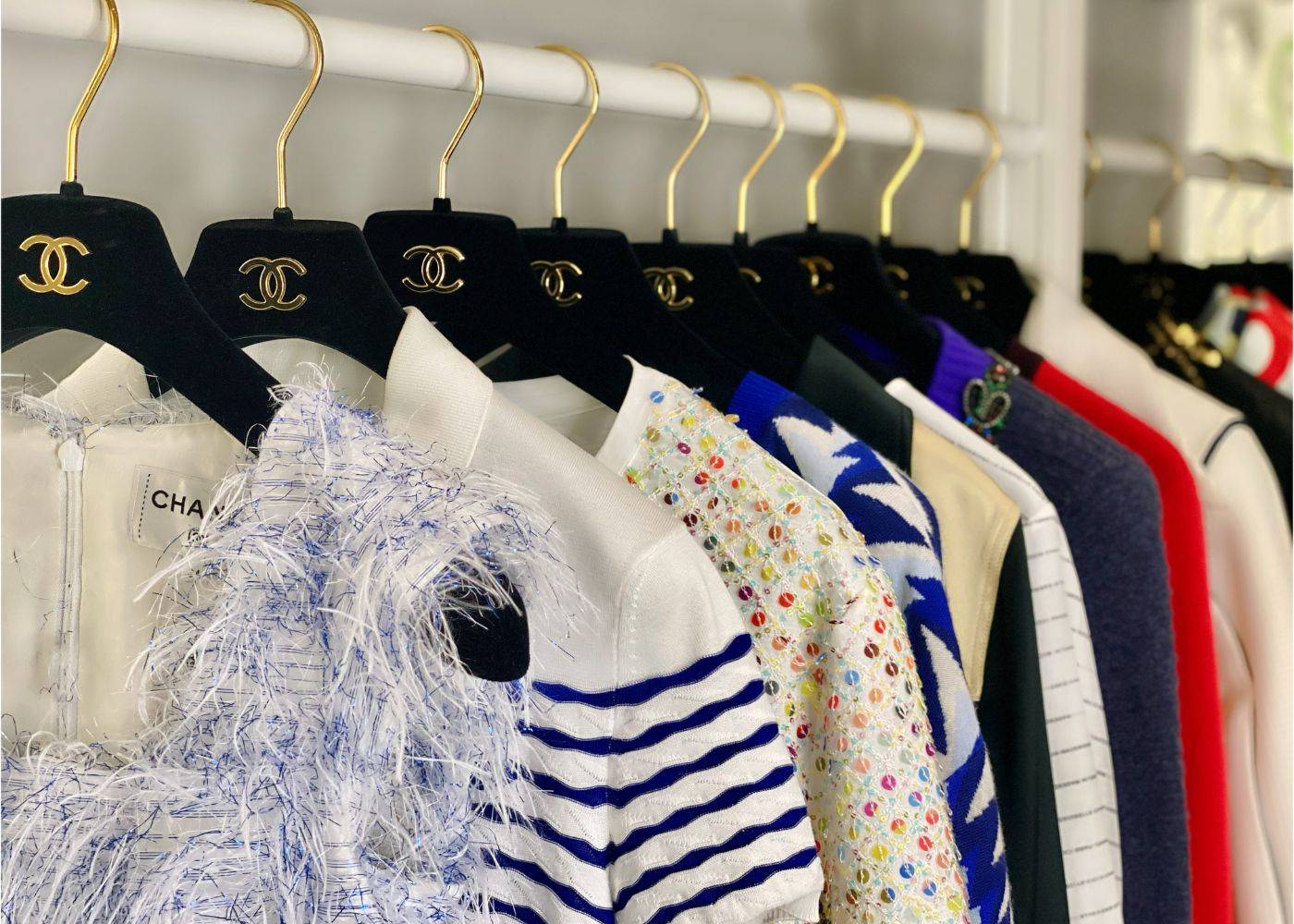 Pictured: Chanel Capsule Collection at CODOGIRL
As we're all aware, the fashion industry can come up with some pretty obscure names for things, Passementerie Edging is something I never thought I needed to know until now! Zhuzh, melange, Out-Of-The-Ark and Yoke all hint at some secret language available only to those entrenched in the industry. So what is this mysterious wardrobe, and why should you have one?
Your Chance To De-clutter And Recenter
The capsule wardrobe describes a small, efficient set of clothes that allows you to effortlessly mix and match items from your collection. Sounds good? That's because not only does it organize your clothes, it aids in supporting your mental health.
For many of us a tidy closet is something we dream about. As we grow older, we accumulate items of clothing that follow us through life.
It might be that same old T-shirt you wear every sunny weekend, or those beige dress pants that your aunt gifted you and you've never tried on... whatever the circumstance our clothing collection usually gets larger until it comes to the point where we realize enough is enough!
When a situation becomes overwhelming and frustrating, we can easily fall into one of two parties; throw it all out and start again, or ignore the issue. They both have their sore points, if you're the first person you could lose sentimental items or great statement pieces just because you feel forced to purge your closet.
If you're more of a procrastinator you may find your garments spilling out into the bedroom, or stored in other locations, and you never actually get around to wearing most of them.
The capsule wardrobe concept fixes this by having 10 – 20 items of clothing that can all be interchanged to create several different outfits. You get to choose pieces that you love, and the rest can be donated to friends or people in need.
All of your clothes have a purpose, and you can open your closet door without worrying that you'll be buried under a mountain of fabric!
Did you know that according to EarthDay.org "Shein, one of the most prominent names in fast fashion, adds an average of 6,000 new styles to its site every day"? Admittedly these aren't all items of clothing, but those pop-up ads on social media sure are tempting! If the prices are low enough why not treat yourself?
The issue is multi-faceted, so let's give you the Cliff notes. Fast Fashion is terrible for the environment, and you are more likely to impulse buy which means the item of clothing probably won't fit in with your current wardrobe.
So, while you get that dopamine buzz from your speedy purchase, when the clothing actually arrives you then have to wonder when or where you'll wear it... and how you'll store it.
Earthday.org also explains; "Studies show that there is a positive correlation between the number of influencers consumers follow and the frequency with which they buy clothing. When influencers post their new outfits with the brands tagged in the post, consumers feel compelled to shop for new clothing as well."
How can we escape this fascination with fast fashion and get back on top of our spending? The answer lies within capsule wardrobes. Being mindful about what you have and why you need to buy a new item of clothing is the first step in training yourself to ignore instant, false gratification from aggressive advertising.
Slow Fashion, Relax – Take It Easy
Changing your shopping habit (or the shopping habits of an entire nation) is not something that happens overnight. By educating the general public on concepts such as refashioning and recycling we can slowly turn the tide of impulse purchases.

As the old saying goes, money talks; in this way you will probably inspire someone to change their disposable disposition through financial savings rather than altruism.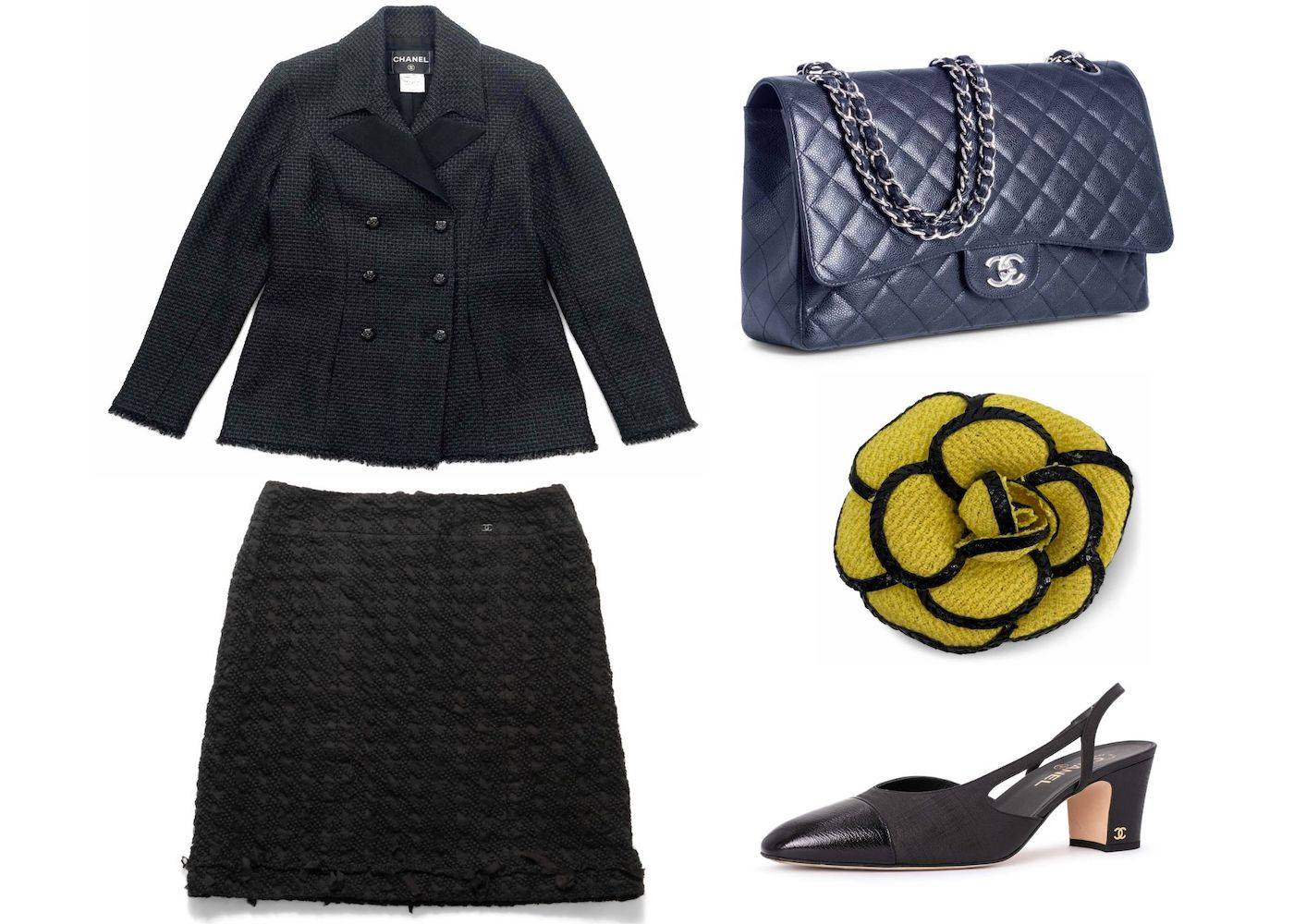 Pictured: a sample capsule collection. On the left from top to bottom: Chanel logo lesage tweed jacket, Chanel logo tweed skirt; Pictured on the right from top to bottom: Chanel logo maxi flap bag, Chanel camellia brooch, Chanel logo cap toe slingback shoe.
"We see the activities we engage in, our tastes, our environments like the area we live in as saying something about us. So, if an activity that we engage in is seen in a negative or unfavorable light, we feel we ourselves are also being seen in an unfavorable light..." - Dr. Dion Terrelonge, Fashion Psychologist and Chartered Educational Psychologist
Think of it this way; if you like something you can absorb that into your identity. Let's say you're into retro clothing, and you style yourself on the Americana of the 1950s. You don't have the time or money to buy vintage jewelry and clothing, however marketplaces such as TEMU and Shien sell replicas.
You buy some items and get complimented on them; you feel good about yourself and your choices. But... then you read some articles on fast fashion statistics and you see some videos online of people angrily berating shoppers who buy disposable cheap items instead of caring about the environment.
This negative approach isn't going to change your mind, you'll just feel guilty or embarrassed that you made a choice to buy quickly, without considering where your garments came from or how they were produced.
Dr. Terrelonge explains, "Essentially, we as humans want to maximize positive emotions and minimize negative ones wherever where we can – this is to promote what we call Hedonic well-being. When fast fashion is pulled into the spotlight for negative reasons, it threatens the availability of feel-good experiences..."
Being told you've made the wrong choice and having that publicized to friends and family is a sure-fire way to increase your stress levels. Instead of berating yourself for being impulsive, use this as an opportunity to learn from your mistakes.
If you enjoy the style you have bought, then why not make those new items the basis of your capsule wardrobe? You are constantly evolving, give yourself time to grow.
Tips And Tricks To Capture The Perfect Capsule
Building your own efficient wardrobe isn't always easy. For a start, how do you even know what pieces will be useful to you, and what ones will work as interchangeable items? The key is to be methodical, relax and see what suits your lifestyle.

Although the ultimate goal is to own up to 20 items, if you're dialing down a 200-piece closet this is going to take some time! Firstly, go through what you currently have and separate it into boxes or dedicated piles.
Do what feels natural to you. This could be all the pants together, all the blouses together or it could be all the casual wear together and all your evening wear together.
"The more you personalize the process, the more you'll be inspired!" - CODOGIRL, 2023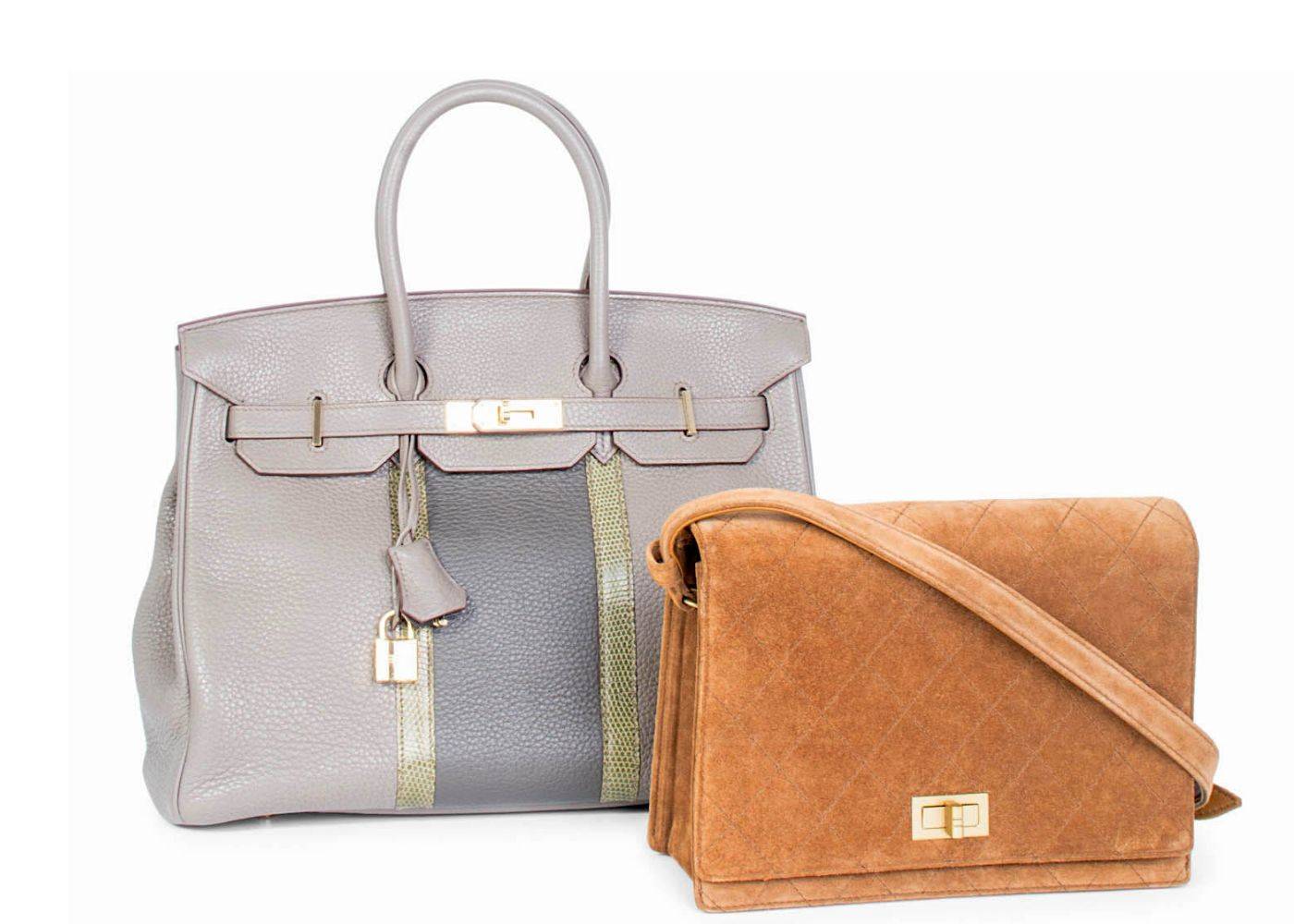 Pictured from left to right: Hermes Clemence leather green lizard club Birkin bag 35, Chanel vintage quilted suede flap messenger bag
1) Now you know what you're working with, it's time to be honest with yourself. How often do you wear formal clothes, how often are you at work, what is the majority of the weather like where you live?
It could be that changeable climates means you need to keep a set of clothes for the winter and one for the summer. In a fairly stable climate such as California, you could get away with fewer items.
2) As you carefully scale down what you own, begin to try out different combinations. Most people find that the more effective economic wardrobes feature mainly similar hues of clothing; this means garments can be paired up easily.
For example, if you're a fan of blue jeans you may realize that most of your tops and jumpers are teal, blue or gray. You could choose the Wednesday Addams look and match black on black, but where's the fun in that!
3) Don't be afraid to ask other people's opinion. Maybe there is something that people always see you wearing that suits you. Maybe there is a piece of clothing that you wore once and should be bringing out more frequently. Ask for constructive feedback, and expect honest answers.
4) You do not have to throw out all your rejects! If something didn't make the cut simply put it to one side in a storage box and try out your new capsule wardrobe for a month. If you need it back in your life – cool. If you didn't even think about it, then it's time to donate to friends, family or a local goodwill.


A Summer Capsule Wardrobe
If you're a little hesitant about getting on-board with a tiny clothing collection, why not try out a summer capsule wardrobe for a couple of months?

Think about those key items that you'll be wearing every week. 2 pairs of shorts, 3 t-shirts, 1 pair of jeans, 2 loose-fitting shirts, 1 pair of sweatpants, 1 hoodie, 2 spaghetti strap tops, 1 pair of sports shoes, 1 pair of sandals, 1 pair of 'nice' shoes.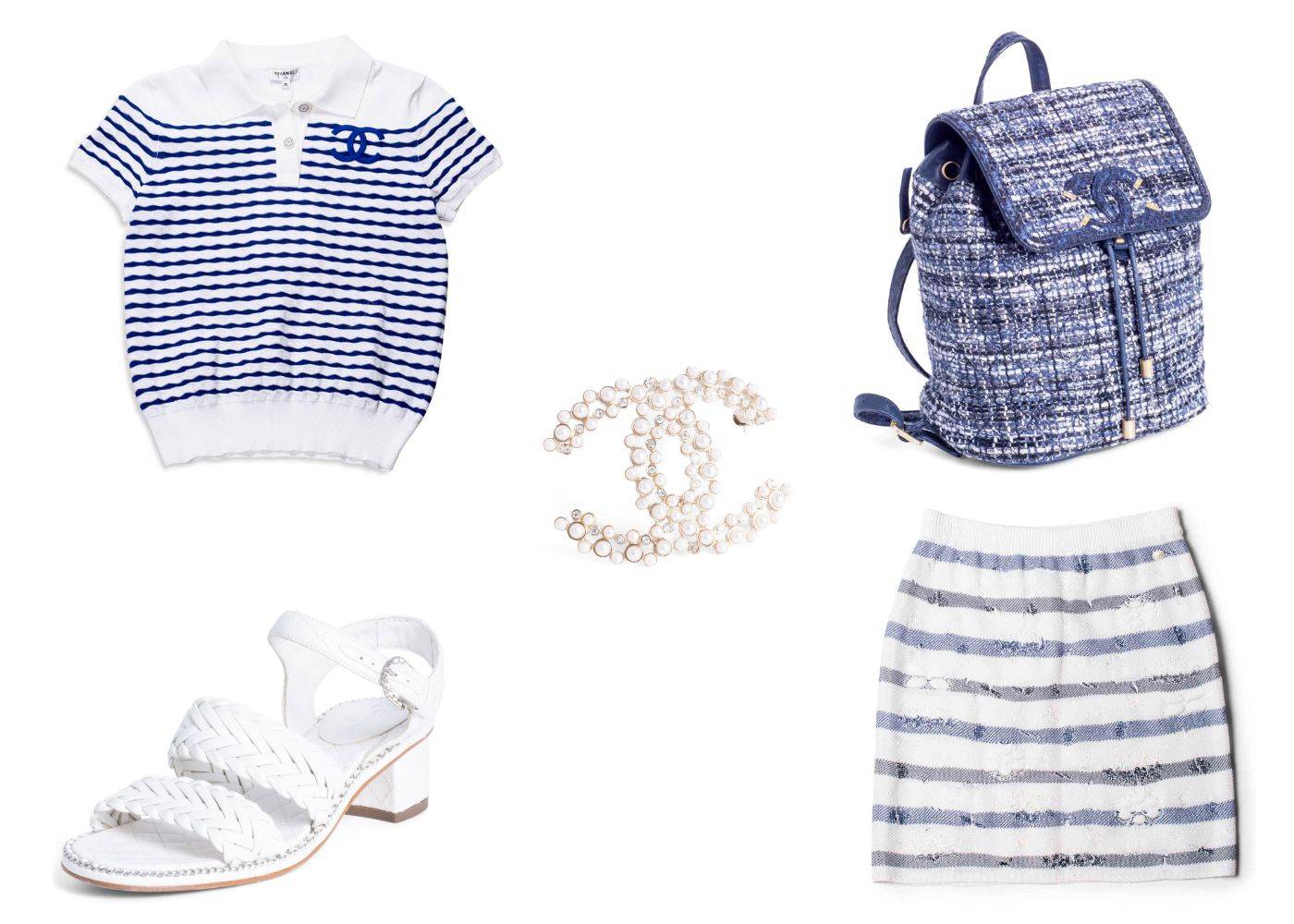 Pictured a sample summer capsule wardrobe. On the top from left to right: Chanel logo striped cotton polo, Chanel logo tweed backpack; Pictured in the middle: Chanel logo Swarovski crystal brooch. Pictured on the bottom from left to right: Chanel logo leather sandal and Chanel striped camellia skirt
Capsule wardrobe women may struggle to reach 20 or less items due to the number of different roles they have within a day; whereas as CIS males typically tend to have an easier time.
The whole genre of slow fashion is a testament to taking care of yourself and becoming more mindful. Explore what makes you happy and don't be fooled by clever repetitive marketing from huge corporations who probably don't even operate out of your home country, let alone your state.
"The typical person saw over 5,000 ads yesterday telling them to buy something new. Here's one with the opposite message: Buy less." – Joshua Becker
As you work on building your perfect "capsule", do not hesitate to discover the benefits of buying vintage garments.
Comments
Right