Understanding Different Types of Handbags | CODOGIRL | Handbag Styles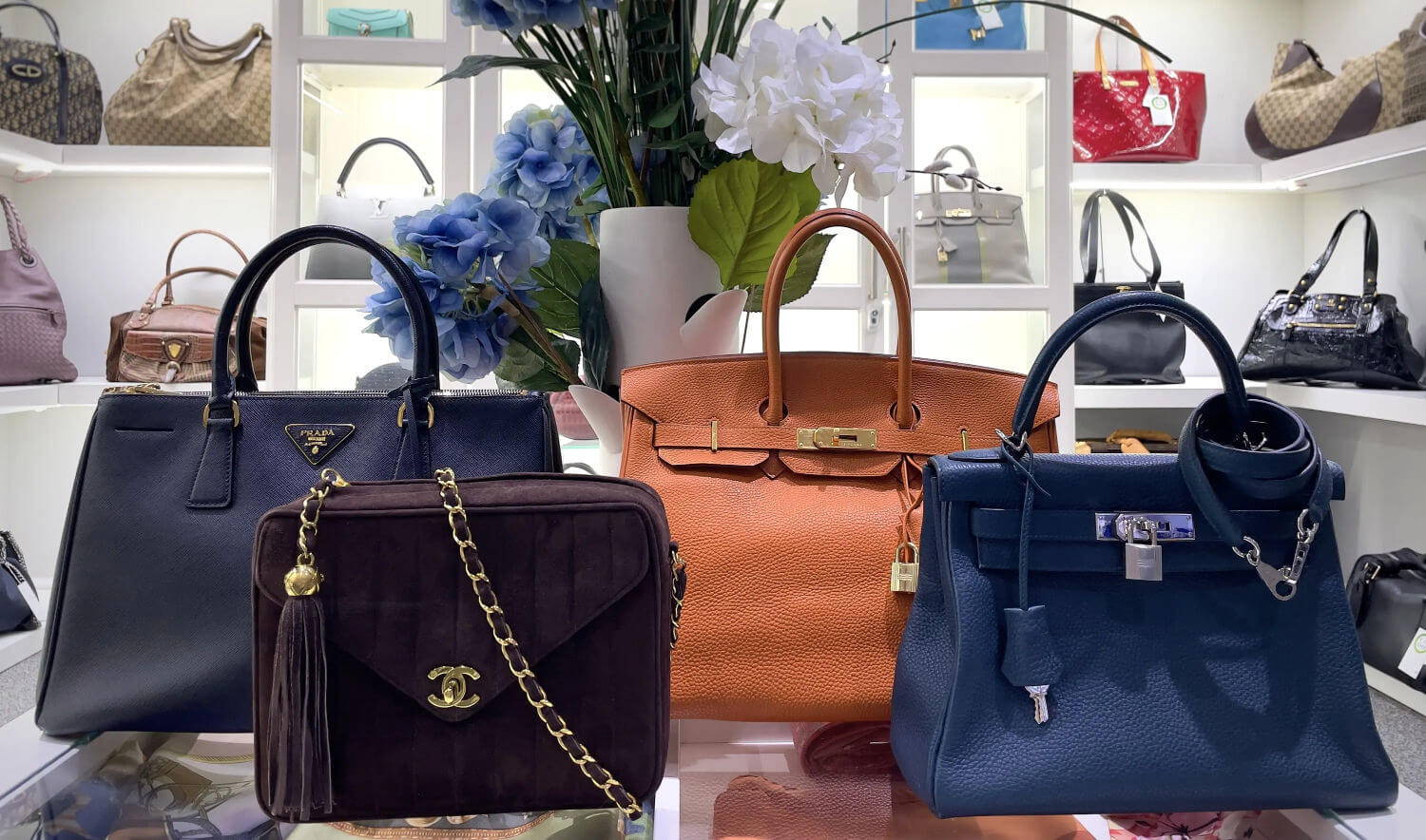 Pictured left to right: Prada Saffiano Leather Mini Tote, Chanel Suede Messenger, Hermes Birkin 35 Bag, Hermes Kelly Two Way 25 Bag
When you ask someone what their favorite type of bag is, you are likely to be bombarded with hundreds of different answers! There are types of bags out there to fit everyone's personal style, and that's what makes thrifting, refashioning and recycling great.
You are spoilt for choice when it comes to evening bags, satchels, messenger bags, record bags, backpacks, briefcases, purses, clutches, rucksacks and more. The most enduring design of bag – and one of the most versatile – is the humble handbag.
What's a handbag and why does it matter?
The term 'handbag' began appearing in people's vocabulary at the end of the Victorian period of history, in the late 1800s. Prior to that, terms such as 'money bag', 'money pouch and 'coin purse' were often used. As you can see, these describe small items of hand-carried luggage with the sole purpose of containing coins and valuables. These types of purses are and were very functional, rather than decadent.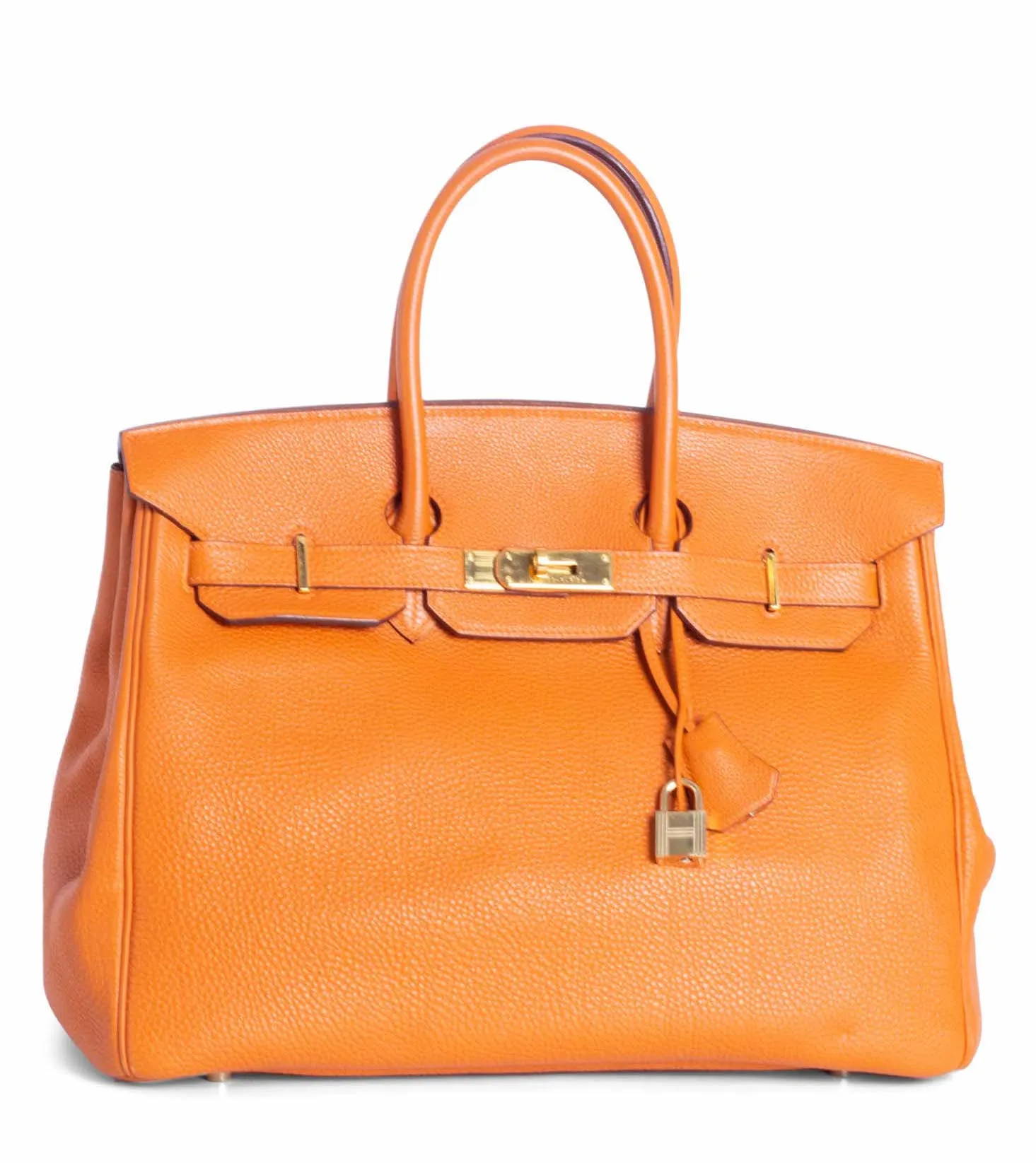 Pictured: Hermes Togo Leather Bag 35
Although the word handbag has only been in our language for a century or so, the bags themselves have been around in some form for over 400 years. In Europe coin purses made from soft leather were often larger than a simple pouch. These were not carried by hand or on the arm, but usually across the body on a chain or a belt.
An existing example of this is the Scottish Sporran which is worn around the waist... however, if you were to wear it hanging from your shoulder you would see that it is incredibly similar to a modern handbag.
In the very early days of larger leather or fabric pouches being used, it was predominantly men that wore the bags. They were the ones handling money and traveling alone in cities or across countries. As time went on ladies (especially upper-class women) were encouraged to learn the art of embroidery.
In the Western world, this development led to small or medium-sized bags being decorated. As women slowly gained more independence and freedom, they frequently chose to carry a handbag to store their personal items, and also as a fashion statement.
Handbags have been used in Hollywood movies to conceal murder weapons, hide spy cameras, hit villains, and adorn glamorous outfits... but we believe the appeal of the handbag is its simplicity. Its ability to blend in on a casual day, or stand out when you want to make a statement.
Too many styles of handbag? Let's start with the original!
Although there are plenty of small hand-held luggage bags it's probably best that we start with the main one, the bag that everyone recognizes, and one of our best-sellers: the modest handbag.
A perfect example of this is the Louis Vuitton Monogram Mini Looping Bag. It's a shoulder bag, small, delicate and has a single front flap. The interior has a zipper pocket to keep those little items safe while you're out and about. Speaking of Louis, if you are wondering how to tell if a Louis Vuitton bag is real, make sure to check out our guide.
Pictured: Louis Vuitton Monogram Mini Looping Bag
Looking at the Mini Looping Bag you can see the recognizable 'handbag' shape. It's interesting to note that in the US we use the words 'purse' and handbag' interchangeably when describing types of bags. This is why when you're looking to find your perfect new or used designer bag it's best to know the specific type and narrow down your options.
The Hermes Clemence Leather 2 Way Kelly Bag is also a handbag, with a slightly larger storage capacity. It hangs from your shoulder, it is roughly square in shape and is a smaller version of a messenger bag or satchel. These bags are best for nights out, or times when you only need to carry a few small essential items.
Sitting on one shoulder means that you won't want to have anything super heavy in them; the most common handbags fit a cell phone, a wallet or money clip, female sanitary products with room for just a couple of makeup items such as lip gloss or face powder.
Messenger Or Satchel, The Appealing All-rounder
As we've mentioned them already, let's discover what the difference is between these two style types. A messenger bag is actually a modern type of satchel, it has one strap which is worn across the body and it has one large flap which often covers the whole front of the bag.
The name comes from the inspiration for the style; people who work in the urban messenger or delivery sector carry large version of these bags, think about a courier's mail bag or a pizza delivery flat design.
An example of this bag is the Chanel vintage quilted suede flap bag. This bag has two interior pockets and a twist lock to prevent the flap from blowing open when you're walking.
The Louis Vuitton Leather Travel Messenger Weekender Bag looks almost identical to the bags you can see mail men, couriers and journalists using; except that this is made from luxurious leather with black and silver hardware, and sports several sections to hold your bank cards.
The traditional leather satchel style has been used for around 200 years, it usually has a top handle and sometimes a shoulder strap or cross body strap. The Givenchy Leather Shark Satchel is a great example of a designer satchel. It has the correct shape, the front flap, the fastener and the two types of handles.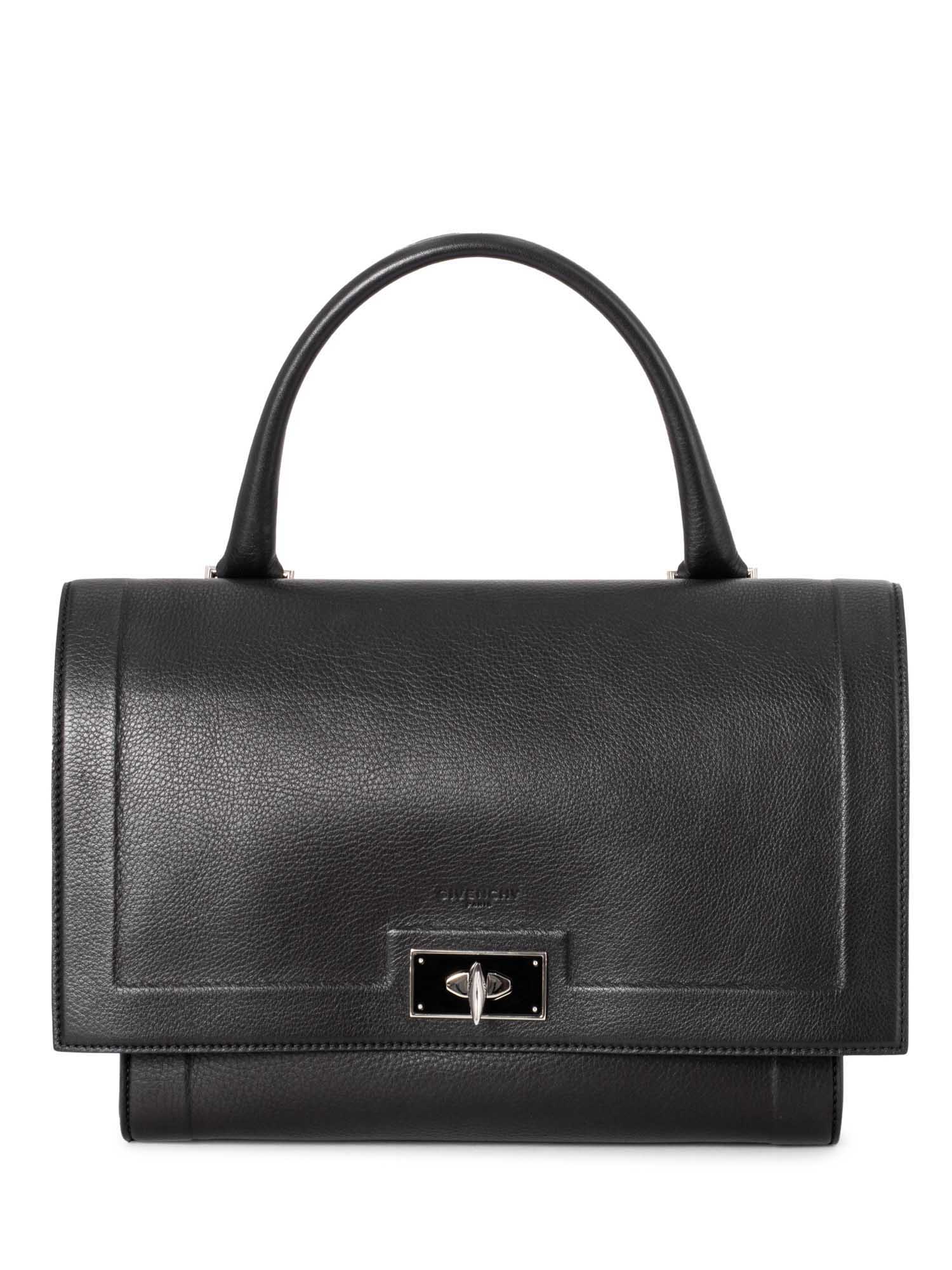 Pictured: Givenchy Leather Shark Satchel
These bags can be a great alternative to briefcases if you want to look business-smart, and match your handbag to your outfit at the same time. Indiana Jones had a leather satchel, and he was the epitome of cool professor mixed with exhilarating archaeologist.

Totes and Backpacks – A Big Bag For The Best Swag?
You may not think of these larger bags in the same way as their smaller, flatter siblings, but backpacks and totes are still types of purses! These are considered to be small pieces of "hand luggage" when traveling by public transport.
You can certainly fit a lot more in them than a messenger bag, they are convenient for parents or people that need to bring more than the essentials out with and they are often considered the go-to school bag for kids.
A tote style bag is probably one of the most differently designed to a traditional handbag. This is because it doesn't have a top flap, it is open and sometimes has a zipper or clasp to keep the opening shut. It has two longer handles that can be worn over the shoulder or carried by hand.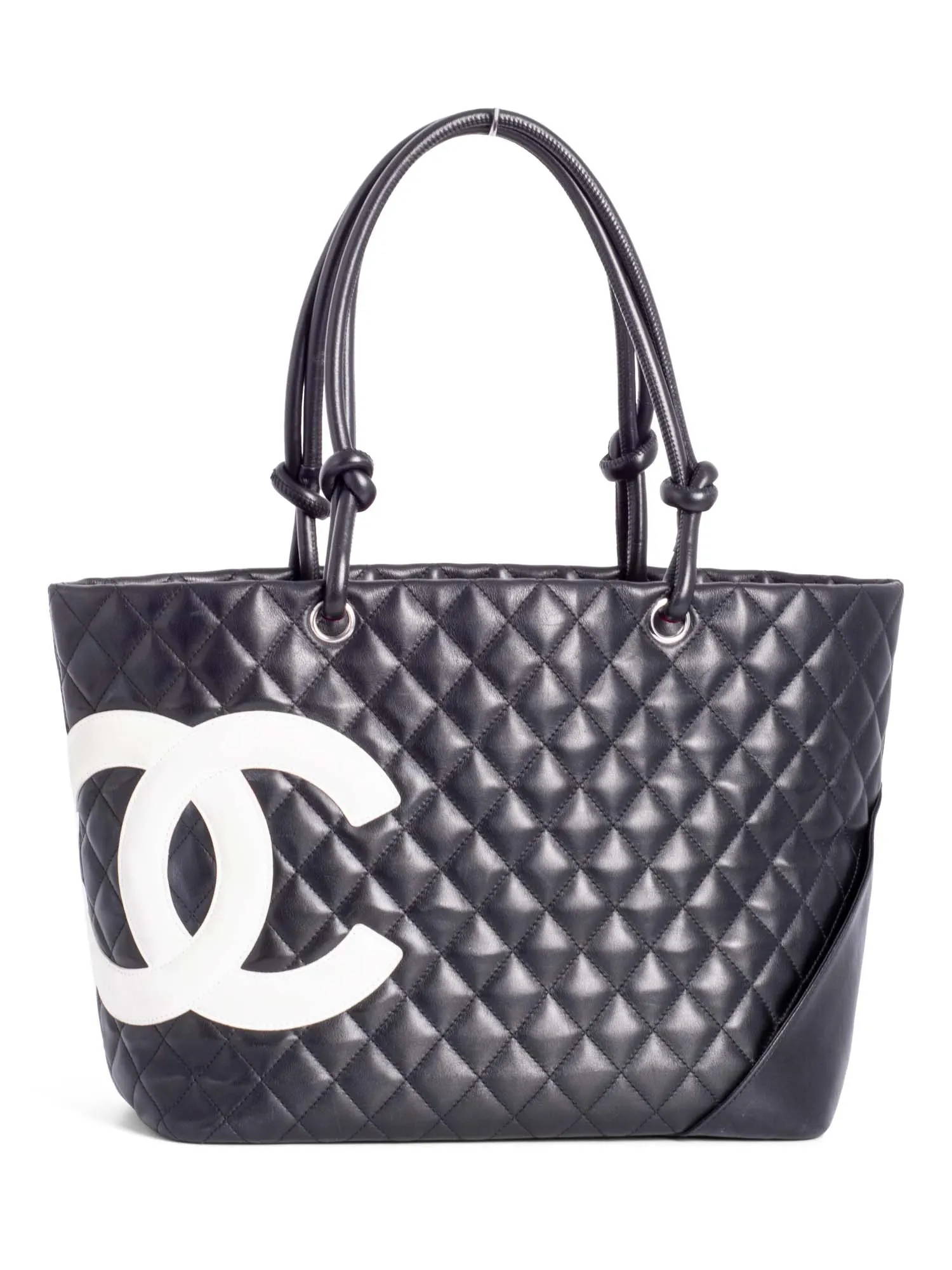 Pictured: Chanel Leather Cambon Tote
The Prada Galleria Saffiano Leather Mini Tote Bag displays these features, it also has added feet at each corner, which some tote bags use to hold the bottom away from the surface they're placed on. This protects the material from added wear and tear.

The backpack is something that has worldwide recognition. Whether it's being used for military purposes, for transporting food, or on a hike – you can bet that whatever country you're in you'll see these types of bags! This versatility has transferred to the fashion side when it comes to backpack style handbags. Gucci, Prada and Louis Vuitton all have popular bags available in this casual, cute style.
Clutches, purses, wallets on chains – oh my!
No high-school prom or 80s romcom movie would be complete without some kind of clutch handbag. These small and neatly designed bags are extremely close to the original coin purses that we described at the start of the article.
They are held by hand, and occasionally have a detachable chain (hence the WOC or wallets on chains variety). They are used in situations where you are carrying the bare minimum, and they're the ultimate style accessory.
Clutches were a common sight when 'flappers' were trending during the 1920s. Young women with bobbed haircuts, short dresses and a love of jazz music would never be without their trusty evening bags. After all, where would they store their cigarettes, matches and lipstick?
The Yves Saint Laurent Leather Sac Betty Studded Clutch shows the typical rectangular envelope shape – easy to hold with one hand or under your arm as you walk.
The CHANEL CC Logo Quilted Leather 24K Gold Plated Shoulder Bag is a stunning example of the clutch with a chain strap. This eye-catching design is timeless, although you may look to the 80s and 90s for its height of popularity. Having some form or strap or handles means that the wearer is less likely to leave it behind at the end of the night.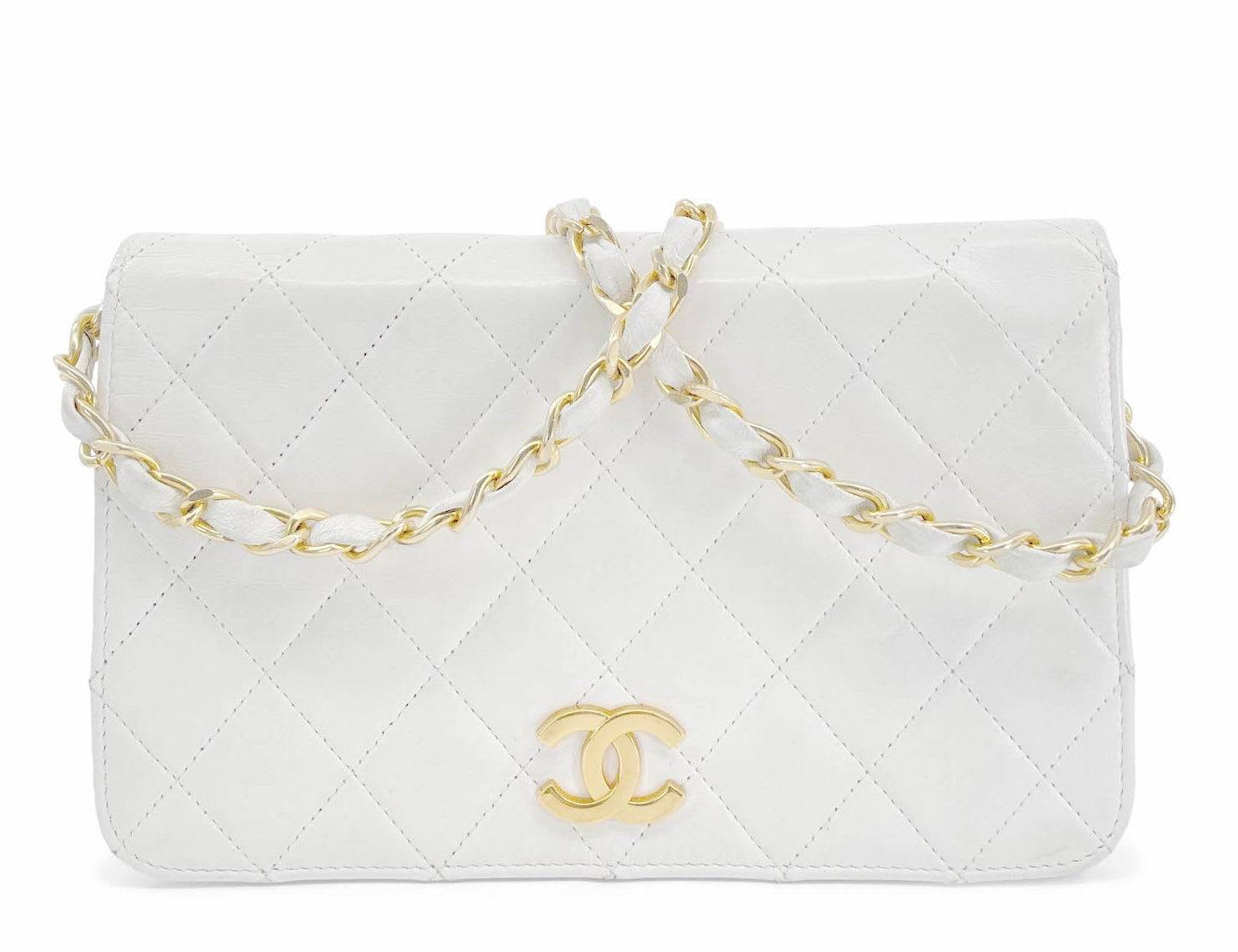 Pictured: an example of an evening bag, Chanel Quilted Leather Clutch on Chain
Which type of handbag is best for me?
We've not been able to cover all the bags in this article, there are some styles such as bucket, saddle and even Gladstone bags that are still popular through the decades, but we've covered the main designs. By now, you're probably wondering which type is going to suit your needs and be a worthwhile investment in your collection.
That's just it. If this is for your own personal collection you should think about long-term uses for the bag, and why you are looking for it.
If you are out to find an unusual statement piece that will be displayed in your home or closet, then you'll want to start browsing designs based on limited edition bags, re-imagined versions of classics, and do your research when it comes to artistic designs such as cubes, lattice, boxes and even pyramids!
Alternatively, if you are searching for the perfect piece to wear multiple times, you'll have to think about the outfit you're pairing it with.
Fashion houses are constantly bringing out new takes on classics, so you'd do well to see what style of outfit the handbag has been paired with in the past. There are plenty of ways to find inspiration, the easiest and most diverse is through social media platforms such as Instagram, TikTok or Youtube.
No matter what your reason for researching handbags, you're one of thousands of people who appreciate the history, craftsmanship and art that goes into their design.
Comments
Right