How to Sell Your Luxury Designer Bag
Are you considering selling your designer handbag, but not quite sure the best way to go about doing so? Whether you are getting bored of your bag and want to put it towards something new and exciting, or you just need the money, selling your used designer bag is a great starting point. But where do you begin? Read more to learn the key ins and outs of selling your pre-owned bag.
Should I use an Auction Site or an Online Designer Consignment Store?
Selling your handbag on an online auction site seems like the obvious place to start. The fees are fairly low with online auction sites 5-10%; you don't have to part with your handbag until it is sold, and you might get cash as soon as the auction ends. However, you are entirely responsible for every step: from photographing and listing the item to handling all customer service, answering questions, and fulfilling the transaction. You then also have to be prepared to deal with potential returns, fraudulent buyers, non-payments and other headaches often associated with online auctions. But this goes both ways: sure, you will save on fees, but you likely won't get the highest price for your handbag as buyers are just as hesitant as sellers, and rightly so. Too many fakes are sold at online auctions, and too many sellers over-embellish their listings and over-promise on the condition of their bags - and many buyers are wary of that.

Examples of the most popular and re-sellable Chanel handbag models and colors - these handbags hold their value incredibly well over time, and can command high prices on the used handbag market.
On the other hand, designer consignment sites, also known as resellers, would command a much higher price for your designer handbag as serious buyers recognize the benefits of shopping with a reputable resale company. They are willing to pay more for peace of mind that there is a professional authenticator behind the sale, and that the handbag is backed by a money-back authenticity guarantee. Opting to sell your handbag with an online designer consignment store will come with higher fees (the reseller will take a cut) but you would be getting a slightly smaller portion of a bigger pie. The decision really comes down to how much time, effort and responsibility you want to put into selling your bag, and whether you want to make less money faster, or more money with a short wait.
What can an Online Designer Consignment Business Do For me?

A professional and reputable designer resale company adds a lot of value towards the sale of your handbag, ultimately getting the best price possible. Their expert authenticators know everything about the make and model of your bag, what it's worth and how best to market it. Starting with studio-grade photography and accurate descriptions with dates, materials and hardware, your handbag will get the listing it deserves. Professional resellers know their Chanel serial numbers and Hermes date codes, for example, which is key in selling these bags for top dollar. From there, good resellers will market and advertise your bag using proper Pay Per Click and SEO strategies, giving it that boost in visibility to serious buyers. They will take care of all customer service, fulfill the order and pay for everything from advertising, photographing, shipping, and credit card fees to assuming the risk of returns and fraud. Many will also stage the product in a physical location or showroom, giving it extra exposure to walk-in traffic. As far as the cost, competition amongst resellers is now so steep that you will find those fees have come down dramatically from the years past.

Inside of CODOGIRL's physical showroom in Greenwich, CT. Should you choose to consign your designer handbag, garment or accessory with them, your item will not only be professionally listed on their website, but also displayed in the showroom for walk-in traffic. The showroom is reserved for appointments only, and frequently brings in high-profile clients with a passion for luxury fashion!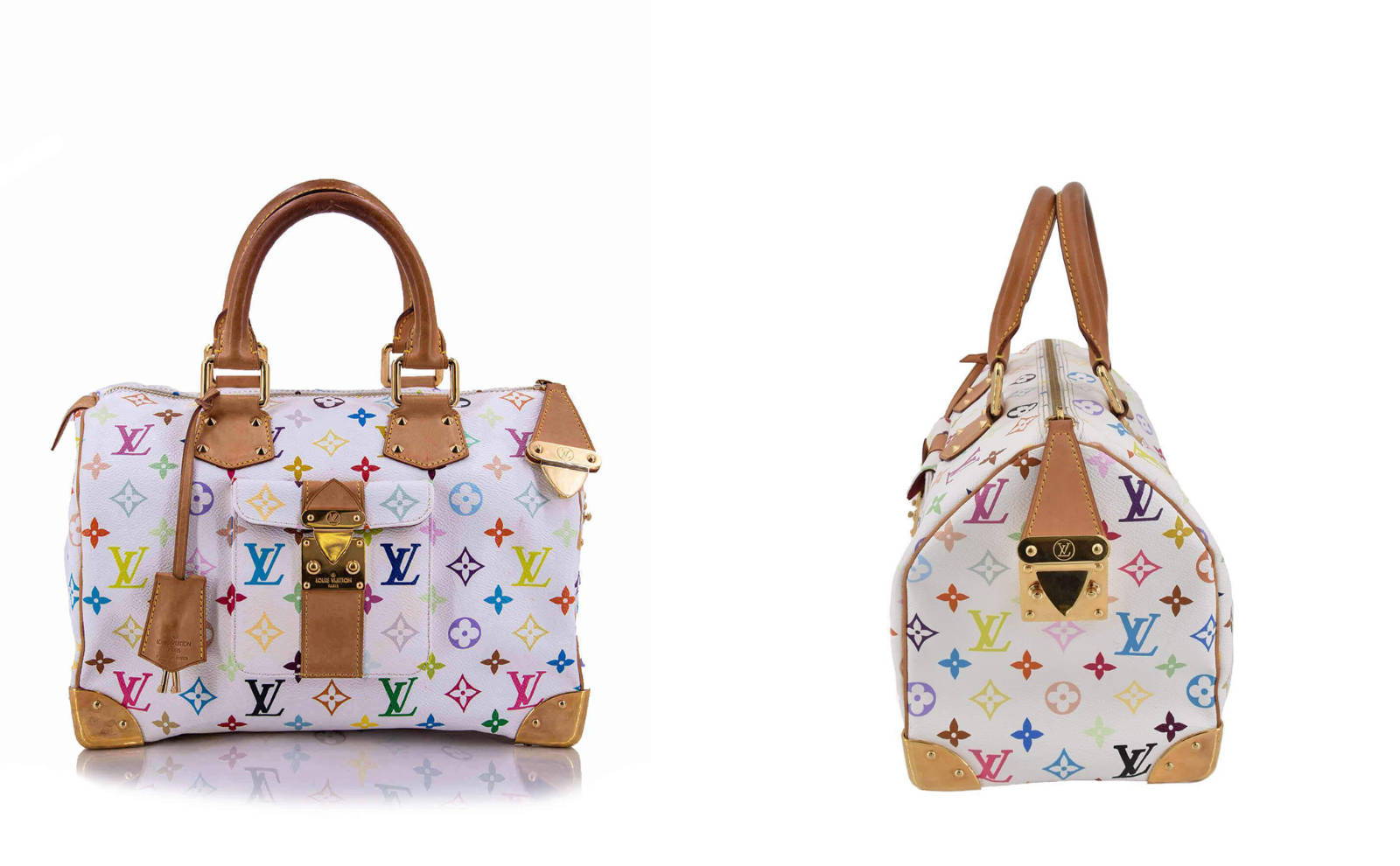 The ultra fun and collectible Multicolor Monogram LV Speedy by Takashi Murakami. Now discontinued, this unique bag is only available on the designer resale market. A guaranteed head turner, the Multicolor LV Monogram is a statement piece, but also a collector's item.
6 Easy Steps to Choosing a Reseller to Sell Your Pre-Owned Designer Bags


There are many kinds of designer resellers out there: large and small companies, highly reputable ones, and others not so much. Some cater towards more heavily used designer handbags and cheaper prices, while others limit their inventory to like-new condition designer handbags and higher prices. Some have physical showrooms, while others don't. While it may seem hard to choose the right one, we put together a guideline with 6 easy checkpoints for you to avoid common pitfalls and be confident in your decision.

1. Look for Solid Reputation and Good Customer Service


This is a big one because this is how the reseller does business, both with buyers and sellers. Always be sure to check customer reviews, and look for a clickable link to real Google Reviews (be wary of sites posting positive feedback with no source). Check if the reseller has social media and look at their posts and user comments - this is another way to get insight on their culture and business model. You may often find customers sharing their frustration with the business on their social pages because they were unable to reach the business otherwise. Always confirm the business has a real physical address, clearly displayed email address and phone number. Call or email the reseller and see for yourself how they handle customer service. See how quickly you will get a call back or a response to your email. Also, be sure to look for resellers that have been around for five, ten or more years and have built a reputation.

2. Check for a Clear Commission Structure


Look out for complicated commission structures and hidden fees. Many resellers will advertise an appealing commission percentage, but too often they will bait and switch. Some have cumulative volume structures where your commission increases the more items you sell, but then the volume count resets after a year and you never reach that high commission you were hoping for. If you see a too-good-to-be-true commission number, look out for various fees in the fine print. This is where some resellers will nickel-and-dime you to make money. The golden rule with choosing a reseller is this: if it takes more than a sentence or simple chart to describe the commission structure, then it is likely designed to trick you. There are a number of resellers with simple commission structures, but we only know of one reseller that commits to both no fees and a simple commission structure. More on that later.


Popular Birkin Bags in Togo and Calfskin leather. While not as rare or luxurious as their exotic crocodile and alligator counterparts, these models remain incredibly in-demand. Perfect bags for special occasions, travel, or everyday use due to their heft and durability, Birkins are the ultimate status symbol.
3. Inspect Their Listings and Photos for Quality


Studies show that photo quality is the single most important factor for buyers when shopping online. Browse the products the reseller has for sale, and see if you like the image quality and descriptions. A top quality listing is the key to your bag selling at the top of its value range. Ask yourself: is the site easy to browse? Would you buy something from there? These are important questions you need to answer by inspecting the reseller's listings. Too often you will see sloppy images of amazing used designer bags on some of the largest designer consignment sites. This is because very large companies are driven by quotas and often the quality of their listings and customer service are sacrificed.

4. Make Sure They Offer an Online Consignor Account


Many, but not all resellers now provide an online consignor account where you as the seller can access important information about what items are in reseller's possession, which of your items have sold, what is payable to you as well as the history of payments. Gone are the days where you have to call and wait to get answers to simple yet important questions about your valuable items - now everything is personalized for you to access this information 24/7. If the reseller does not have this feature, you should be wary of the selling experience with them.

5. Be Wary of Heavy Discounts and Promotions


Some resale and consignment companies will initially price your used handbag at fair market value, but to your surprise the check you get is half or less than what you expected. Cases like this frequently occur with larger resellers, who are profit-by-volume driven. In the fine print they reserve the right to price your item at their discretion, but you may find some companies abusing this privilege and running heavy discounts and promotions, lowering the price of your item every week until it eventually sells. How do you avoid this? Double check the reviews for what other consignors experienced. Most companies will at times run promotions of 5-15% to incentivise a sale, but some will list at lower than market value and then offer 20-30% promotions on top of that just to make a quick sale. There are always bad apples, but if you do your research you will find a number of solid, trustworthy resellers.

6. Decide Whether to Sell for Cash or Consign Your Designer Handbag


Some online resale companies only buy your used handbags outright and resell them on their own accord. Others only accept consignment, and won't buy your bags for cash. However, many will have an option for both. If you come across a reseller offering both buyout and consignment, what should you choose? For most designer handbags, you will get less money right away if you choose to sell for cash instead of consigning. Again, this is a question of whether you prioritize the quickness of getting paid, or waiting a bit and getting paid more. How much your designer bag is worth is also of course a factor in that decision.

Why Sell Your Designer Handbag With CODOGIRL?

Safe and hassle-free with 3 easy steps.
No Fees! And simple commission structure of 50-80% depending on the value.

In business since 2010.
Excellent customer service - phone calls and emails answered or returned within one business day. See Google reviews.

With your Consignor Account you are in control of your items at all times .



Expert authenticators and advertisement specialists make sure your handbag gets the boost it needs to sell for the highest price.
Got vintage? Vintage handbags, clothing and accessories are CODO's specialty. CODO's experts can uncover your vintage item's hidden value and sell it for the highest price. Checkout CODO's sustainable Refashion service that brings your vintage bag or jacket back to life.
Comments
Right