How to: Accessorize Your Handbag With an Hermes Scarf
In the world of luxury handbags, there is a growing trend of personalization. There are many options to choose from, including custom bag painting, tassels and keychains, and our favorite method: accessorizing a bag with your scarf. Many luxury houses offer quality scarves, such as Gucci and Louis Vuitton, however the scarves that work best for accessorizing your luxury handbag are without a doubt made by Hermes.


What makes Hermes scarves so special?
Branding aside, Hermes scarves are so special and sought after because of how they are made. The complexity of their detail is unmatched, with some scarves utilizing over 100 different colors at once. Hermes scarves are also made from the highest quality silk, which increases the vibrance of the color patterns and is incredibly soft to the touch.


Pictured: Two vintage Hermes scarves. Left: Hermes Feux De Route scarf, Right: very rare Hermes Guepard Cheetah Scarf

The scarves can take several months to create, and the attention to detail sets the bar for all other luxury scarves. If maintained properly, Hermes scarves can last generations; some vintage scarves on the resale market today are in nearly as good condition and as vibrant as they were when they were first purchased. Hermes scarves are not nearly as expensive as some of the bags they accessorize, but are by no means cheap. However, for around a few hundred dollars, you can get yourself a gorgeous scarf in great condition by shopping luxury resale.
How do you accessorize your handbag with an Hermes scarf?
There are several ways you can accessorize your favorite luxury handbag with a complimentary scarf. The first, and most common method is to use the scarf as a twilly and wrap the handles. Many women choose to dress their high-end luxury handbags this way to protect the handles from the mixture of dirt and debris, friction, moisturizers and the leather's natural oils, all of which work together in wearing the handles down over time. This is especially true for top-end Hermes bags, such as the Birkin and Kelly: while they are incredibly robust and durable bags, excessive wear on the handles will appear with use. This wear and discoloration can severely impact the bag's resale value, so protecting the handles with a scarf can be a great way to add flavor to your prized Birkin while protecting its investment value!


Pictured: Hermes scarves on Hermes bags are our favorite combination! It's almost as though they were meant to be together. The red Birkin is wearing a twilly, and the orange Birkin is wearing a classic loose knot tied in the middle of its scarf.
To wrap an Hermes scarf into a twilly, start by folding the scarf into a triangle and then folding it several times into a long, thin strip. Then, tie the scarf strip into a knot at one end of the handle, and wrap the twilly around the handle, tightly working your way to the other end of the handle. Finally, tie a knot at the other end and adjust the wrap to your liking. A common method to spice up your twilly wrap is to allow the excess scarf to flare out past the knot.

Another great technique is the loose knot, which allows the scarf to hang more freely from the handles of your favorite handbag. It can be used on almost any bag to add some color and character, but works especially well on your everyday carry bag that may show some wear. As in the twilly method, be sure to fold the scarf up into a long, narrow strip. This time, tie a loose knot in the middle of your scarf strip and allow both ends to hang freely along the bag's front facade.


Here are some classic examples of how to dress your handbag in an Hermes scarf. A really great technique is to pick a scarf whose color swatches not only contrast, but also complement your handbag's colors. Note the Hermes orange on taupe, the pink/red overtone on blue, and the navy blue/white on the red. The first two are wrapped in the twilly technique; the third is using a loose knot and the final image shows a beautiful bowtie style knot.

Accessorizing your favorite handbag with an Hermes scarf is an excellent finishing touch for any outfit and for any occasion. However, just as wearing the scarf around your neck, hair or as a bracelet, after you are finished toting your spiced-up handbag, the scarf needs to be properly maintained and stored to ensure it keeps its luster and vibrant colors. To learn more about Hermes scarf maintenance, be sure to check out our other article on Hermes scarves.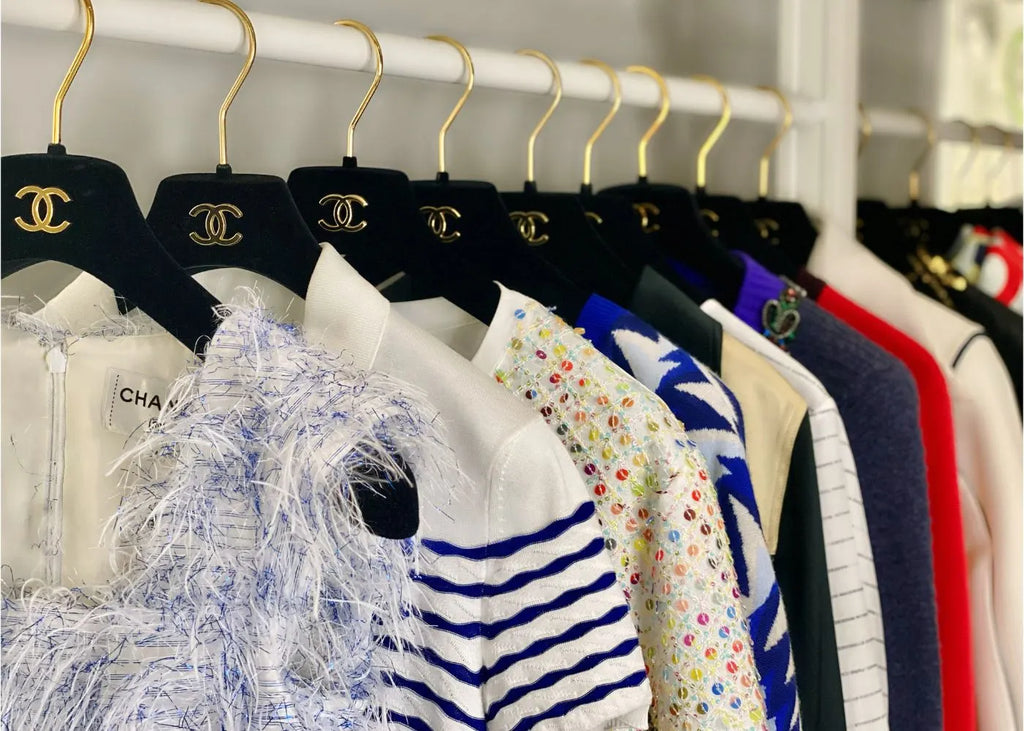 Yulia Omelich  Co-founder  CODOGIRL®️ Published: June 23, 2023 Pictured: Chanel Capsule Collection at CODOGIRL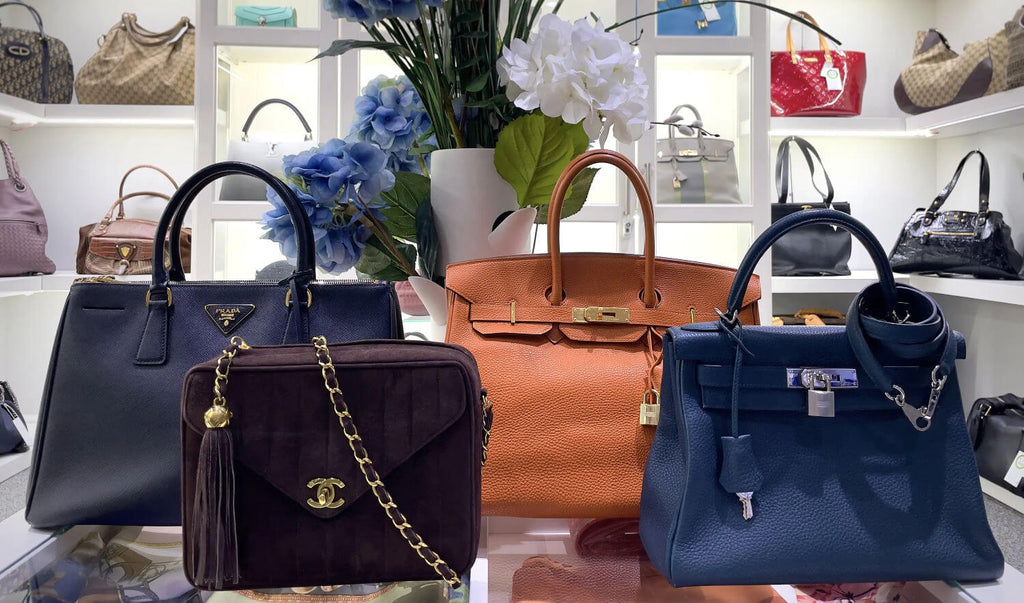 Yulia Omelich  Co-founder  CODOGIRL®️ Published: May 23, 2023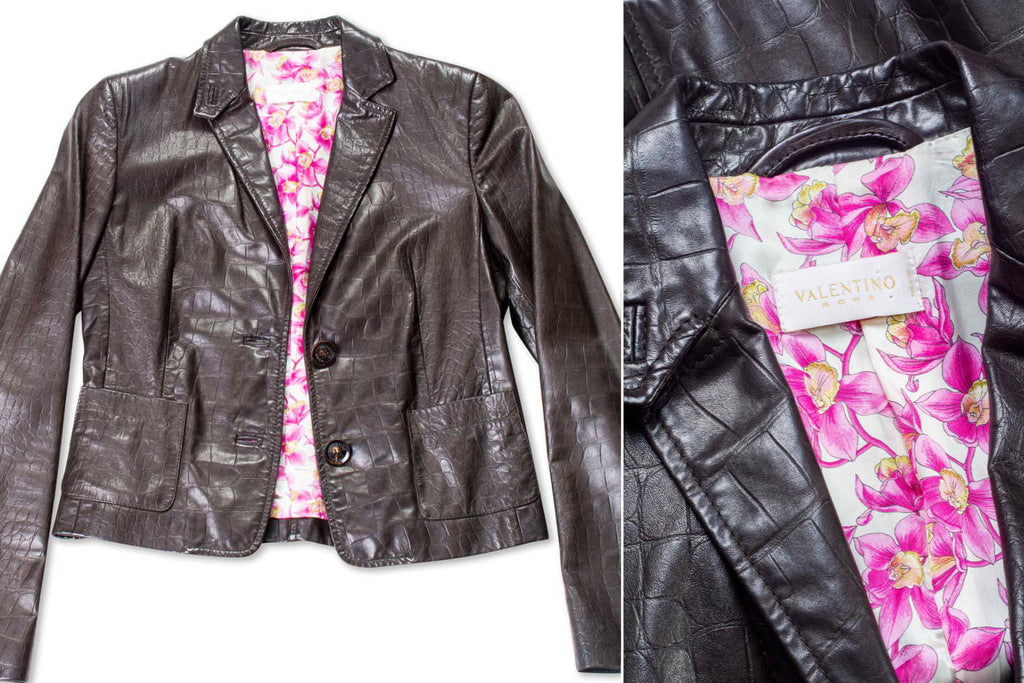 Yulia Omelich  Co-founder  CODOGIRL™ Published: April 18, 2023 Pictured: Vintage Valentino leather fitted jacket As times change and fashion evolves, the...
Comments
Right