Hermes Scarves: How to Wear, Care and Make Sure People Stare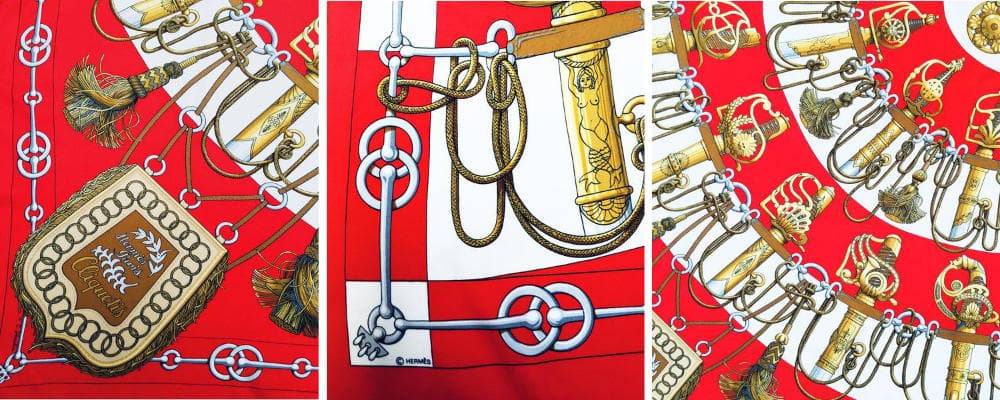 Pictured: Detail of Hermes silk scarf "Cliquetis", featuring elegant armory and swords in gold hues.

The Hermes scarf is an icon of luxury fashion and is a must-have for any wardrobe. While they are made from incredibly high quality silk, the Hermes scarf's specialty is its flexibility. It can be dressed up or down, worn around the neck, over your hair or even on your designer handbag. Keep reading below to learn more about Hermes scarves, fashionable styling tips and how to care for them to make their quality last a lifetime.
You may already know that Hermes was founded in 1837 as a harness and saddle maker, which, unsurprisingly, is why the luxury house features equestrian details on so many of their handbags, garments and accessories. The first Hermes scarf—which based off of a woodblock print created by Robert Dumas (husband of Jacqueline Hermes)—was introduced in 1937. Hand-woven from Chinese silk and screen-printed, the first Hermes Scarf set the bar the luxury scarves' quality and aesthetic appeal.

The Hermes scarf solidified its place in luxury fashion via some of its most profound and influential wearers, the likes of which include Queen Elizabeth II and style icons Audrey Hepburn and Princess of Monaco, Grace Kelly. Today, the Hermes scarf is worn by both men and women, and adored by both younger and older wearers. Their handmade luxury quality—taking artisans several months to create—is unmatched, and their aesthetic prints, ranging from military and equestrian to floral and faunal are a fashion mainstay.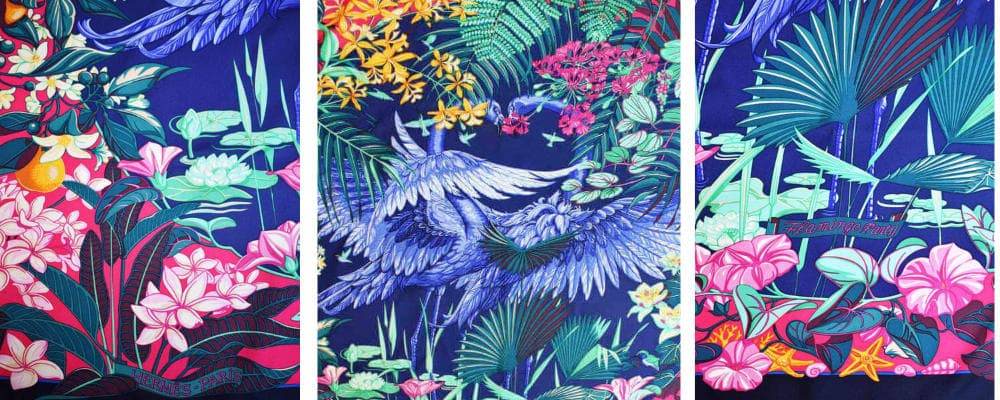 Pictured: Hermes silk scarf "Flamingo Party", celebrating a beautiful world of fauna and flora.



How to Wear and Accessorize Your Hermes Scarf

There are literally hundreds of ways you could style your Hermes scarf as it's applicable to almost any part of your body—even your bag (you can even tie it into a Maxi Sac and use it as a bag!) You can tie it into a super chic, open-back top or wear it like a pirate's bandana. You can wear it around your neck as a tie, or as a long bandeau. A super rare and popular Hermes accessory is the rounded Chaine d'Ancre, or scarf ring, which you can use to style your Hermes scarf in even more ways. We think one of the best ways you can wear your scarf is with your favorite Hermes bag. Use it as a twilly to protect your Hermes Birkin or Kelly's handles, or tie it so it hangs effortlessly to give your bag that extra flare. See pictures below to get an idea: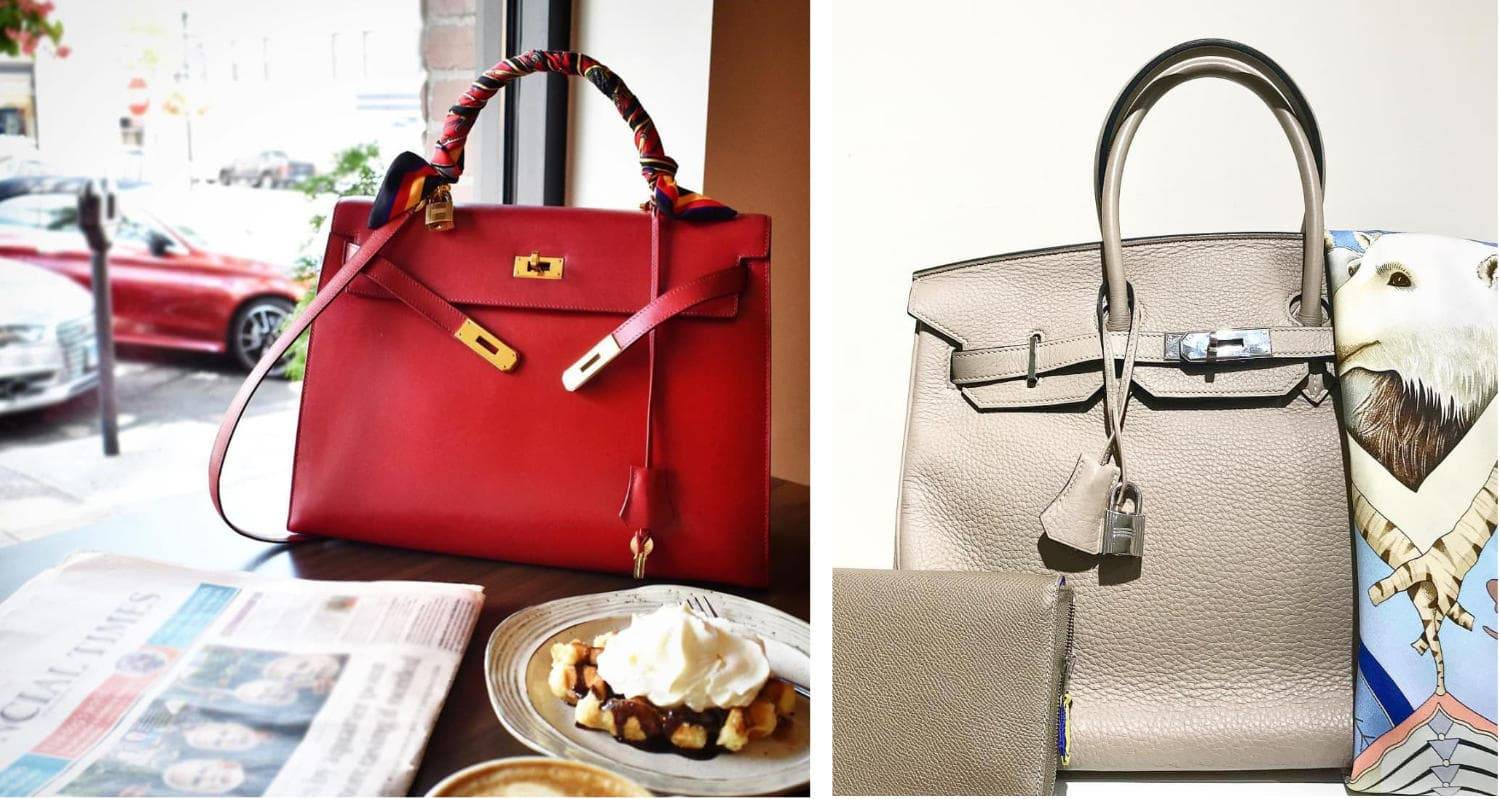 Left: Hermes red twilly scraf on Hermes 35 red Kelly bag. Right: Hermes silk scarf on Hermes 35 taupe Birkin bag.



How to Care for Your Hermes Scarf
Hermes scarves are made with the utmost quality and care, so make sure yours stays looking brand new for years to come with the following tips. First and foremost, never get your Hermes scarf wet—protect it from rainy days and keep an eye on any exposed coffee cups! When you're done styling your day away with your fabulous scarf, let it hang freely so it can 'breathe' and unfurl any wrinkles. Hermes provides the ideal storage conditions with the scarf's original box, so fold it up and keep it out of sunlight to prevent fading. Be careful when using scarf rings: make sure they have smooth, round edges and definitely be wary of any brooches or pins that can puncture the silk. If cared for properly, your Hermes scarf will look brilliant for decades to come. They hold their value quite well on the luxury resale market if you keep them stain and tear-free; some limited edition scarves actually become assets as their price and demand increases. If you're looking for the perfect accessory for any outfit or situation, you can browse our carefully selected collection of pre-owned Hermes here at up to 70% off retail.

Pre-Loved Designer Scarves

Comments
Right