How Much Do Hermes Bags Cost?
Why Are Hermes Bags So Expensive?
If you are in the market for an Hermes bag, expect this premium handbag to come with a premium price tag. The cost of a new Hermes bag heavily depends on a lot of factors, particularly: the model, material, hardware type, color and size.
If you are buying pre-owned (which is the best way to buy them if you are not a high-profile client maintaining a relationship with an Hermes boutique), you must also consider the condition of the bag, the age and the rarity. Since Hermes offers many different luxurious handbag styles, let's break down the top 5 styles that best cover the entire price range:
1. Evelyn ($1,800 - $6,000)

The Evelyn is a simple, understated luxury that is perfect for a busy day of errands. Just throw the thick crossbody strap over your shoulder and go! It's casual, but undeniably Hermes with the large perforated 'H' on the front. You can find the Evelyn in any of Hermes' delicious colors. It comes in 4 sizes: Mini/TPM, Medium/TM, Large/GM, and Extra Large/TGM.

Size and material are the main drivers of the bag's price. Expect the smallest TPM to retail around $1,800, while the largest TGM will command $4,500 in an Hermes boutique. There are also the new Sellier Evelyn models, available in medium and large size, that typically cost between $4,500 and $6,000 new. On the resale market, you should be able to consistently acquire them for $2,000 or less, again depending on condition.

2. Garden Party Tote ($2,000 - $3,000)
The Garden Party is Hermes' most practical offering. A quintessential tote, the Garden Party is a fantastic choice as it has Hermes' signature craftsmanship and quality at attractive prices. It is also super versatile: pick a fun color twilly and dress it up, or simply carry all your daily essentials as you go about your day. Notice how the snap closure at the top of the bag provides a twist on the classic boxy tote silhouette.

It's the ideal entry-level Hermes bag, and is typically more durable than other options (especially if you get one in canvas) and comes in many different materials and colors! It is available in sizes small/30, medium/36 and large/39. You will find them retailing between $2,000-$3,000 at the boutiques, however the resale price on these wonderful handbags is not much lower than retail if they are in great condition. This is because of the high demand for these bags, as well as their high utility - women love toting around this chic Hermes every day.

3. Constance ($4,000 - $30,000)

Moving up in price range, we arrive at the highly-coveted Constance handbag. More geared towards special occasions as a statement piece, the Constance is the definition of Hermes leather work perfection. The most distinguishing feature is the large 'H' emblem on the front face, often made of attractive Hermes hardware materials like gold or silver-colored enamel or palladium.
The Constance is available in micro, mini, 24 and a newer edition called the Elan (slightly elongated and more rectangular). You can find other discontinued sizes like 23, 25 and 29 on the resale market. Prices range from $4,000-$9,000 for standard leather options, however the Constance has also been made in rare quantities in the exotic leathers like alligator and crocodile. This will drive the price anywhere between $15,000-$30,000 on the resale market depending on the material and condition.

Pictured: Hermes Constance handbag - this one is a special order made from alligator. You can tell the material from the square marking next to the HERMES stamp on the inner flap. Rare exotics like these you can only find on the resale market.
4. Kelly ($9,000 - $40,000)

While many think the Hermes Kelly was named after actress Grace Kelly, the bag was actually made for decades by Hermes under the names "Haut a courroies" bag or "Sac a depeches". It was only in 1956 that Grace Kelly brought fame to the bag, giving birth to the Kelly bag as we know it today.
The Kelly is iconic Hermes, available in two distinct styles: Sellier and Retourne. The Sellier has a sharp, rigid silhouette while the Retourne is softer and more relaxed. The Kelly notably comes with a detachable leather shoulder strap, and is available in several leather material, hardware and color combinations. Kelly bags are more expensive than the previously mentioned models, ranging between $9,000-$11,000 new for the traditional leather choices like Togo, box calf or Epsom. This price depends on the size, as the Kelly ranges from 15cm across all the way to 50cm across. The caveat to buying Kelly bags new is that there is a long waiting list to procure one at an Hermes boutique. Your best bet would be the resale market, where, depending on condition, the bag typically falls between $4,000-$9,000 in standard leather choices. This is because the Kelly is so scarce and desirable that it retains its resale value extremely well.
Like the Constance, the Kelly can be rarely found in exotic alligator or crocodile leather, which can bump the asking price up to $40,000!
5. Birkin ($9,000 - $400,000+)

Arriving at the most expensive Hermes bag: Birkin. The legendary Birkin bag is named after style icon Jane Birkin, the bag has become a symbol of status, considerable wealth and ultimate luxury.
Hermes is very restrictive about who it sells new Birkins too, so for everyone who doesn't have a well-established client relationship with a boutique, the secondary market is the best bet. Birkins are often worth more on the resale market than at the boutiques, however. Like other Hermes bags, the Birkin's value is based on the material, the size and color - in that order. You can reasonably acquire a "simple" Birkin in Togo or box calf for around $9,000. Exotic Birkins in crocodile, for example, net between $20,000 and $30,000, depending on condition. Some crocodile Birkins, like the ultra-rare Himalayan crocodile, sell for upwards of $400,000! Be sure to check out our exotic Birkin guide to learn more about these apex handbags.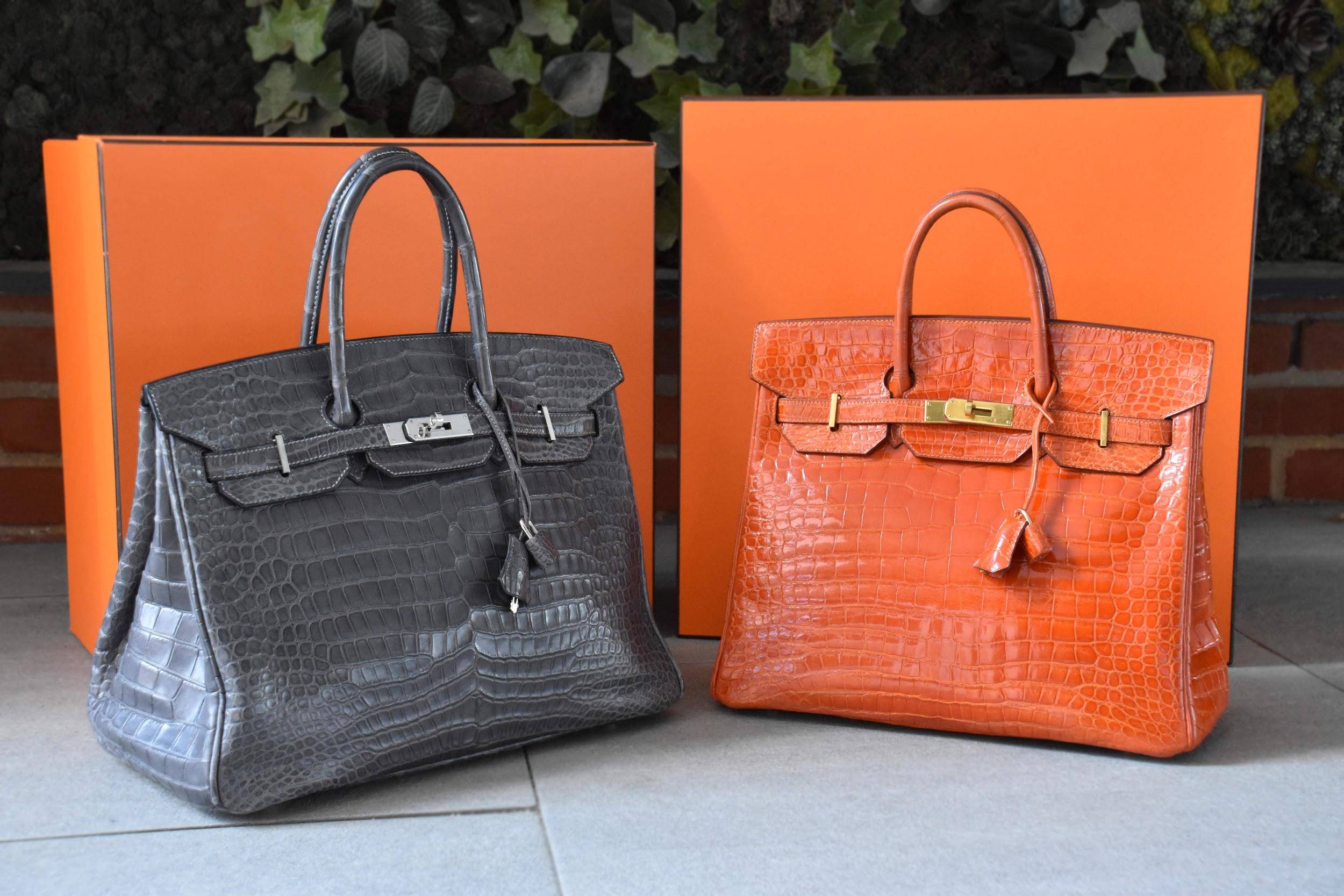 Pictured: two ultra-rare Birkin bags, both finished in the exotic porosus crocodile skin (called porosus because if you look really closely at each scale, you will see a pore). Birkins like these easily sell for $20,000 or more, depending on condition, color size, even the symmetry of the scales.
Birkins are made in 4 standard sizes: 25, 30, 35 and 40. You can also come across something called a Birkin HAC, which is custom made to a different size (i.e. 32) with taller proportions, although these are rare. The Birkin, along with the Kelly, are so valuable and rare that many opt to buy them as investments.
Fun fact: the Birkin outperforms gold, stocks and real estate with an average 14% return! They have gone up in value by 500% over the last 35 years, according to a 2017 study conducted by Baghunter.
Price ranges for top 5 most popular Hermes bag styles:
| | |
| --- | --- |
| HermesBag Style | Price Range |
| Hermes Evelyn | $1,800 - $6,000 |
| Hermes Garden Party | $2,000 - $3,000 |
| Hermes Constance | $4,000 -$30,000 |
| Hermes Kelly | $9,000 -$40,000 |
| Hermes Birkin | $9,000 -$400,000 |
Price ranges are estimates that vary based on size and material, and can change yearly.
It is no surprise that Hermes handbags are very expensive when you buy retail. However, you can save a lot of money and still get your dream Hermes bag for much less than their retail cost by buying one pre-owned from a reputable reseller. The trick is to make sure that the bag is authentic. How can you tell? Check out our Hermes Authentication Guide, which is full of tips and tricks to find the real deal and spot the fakes.
Comments
Right