The Size Guide for Louis Vuitton Neverfull - CODOGIRL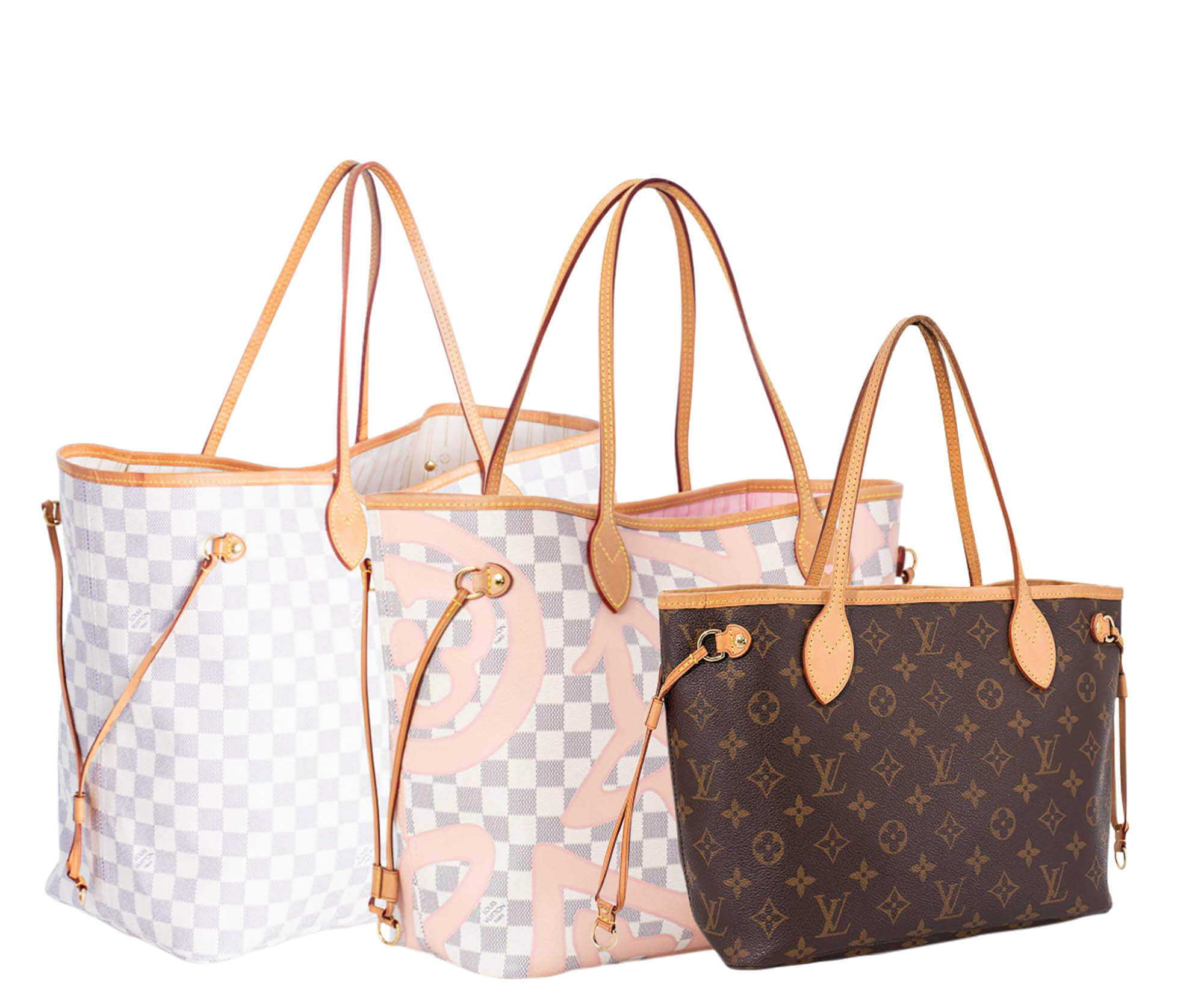 Pictured left to right: GM, MM and PM Louis Vuitton Neverfull bags.

The French luxury fashion house, which was first founded nearly 170 years ago, is still riding high today. It is hard to believe that their Neverfull tote bag range has been on the market since 2007. In those 15 years the popularity has remained strong despite changing fashions.
In this guide we explore all you need to know about the main three sizes of Louis Vuitton Neverfull.
What are the different sizes of Neverfull bags?
You may be wondering, what are the LV Neverfull sizes? It can be hard to tell from photographs just exactly how big (or small) a tote bag is. When you're paying that high-tier luxury price you need to be sure that you are choosing what's best for your needs.
Being a French brand you will not be surprised to learn that the three Neverfull sizes are named in Louis Vuitton's native language. The range is: PM (Petit Modèle), MM (Moyen Modèle) and GM (Grande Modèle).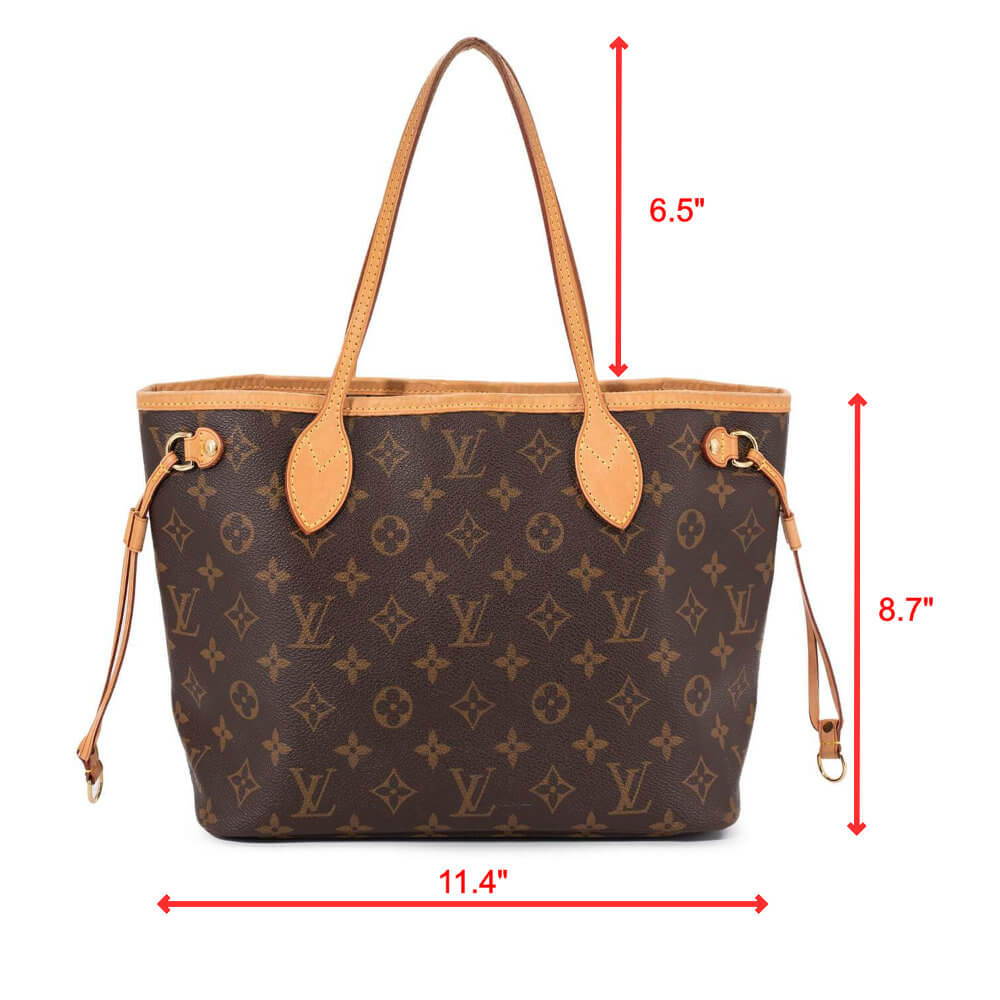 Pictured: the size measurements of the LV Neverfull PM bag.

The Louis Vuitton Neverfull PM bag measures 11.4" L x 8.7" H x 5.1" W. The handle drop is 6.5".
If you are wondering, what does PM stand for? The simple answer is Petite, meaning small, and Modèle meaning model = small model. Everything sounds much more elegant in French! This model embraces the minimalist aesthetic, everything is smaller including the price.
On average it is $70 cheaper than the MM and at least $150 cheaper than most LV Neverfull GM bags. Although you can't fit as many accessories within the bag, it is still one of the best-designed small totes on the market. The deep, wide shape of the main compartment can also fit a bag organizer if you need one.
The Neverfull PM comes with three choices of fabric lining colors, and currently three external patterns – they are always adding different options, so it's worth checking the official LV website.
The Louis Vuitton Neverfull MM Bag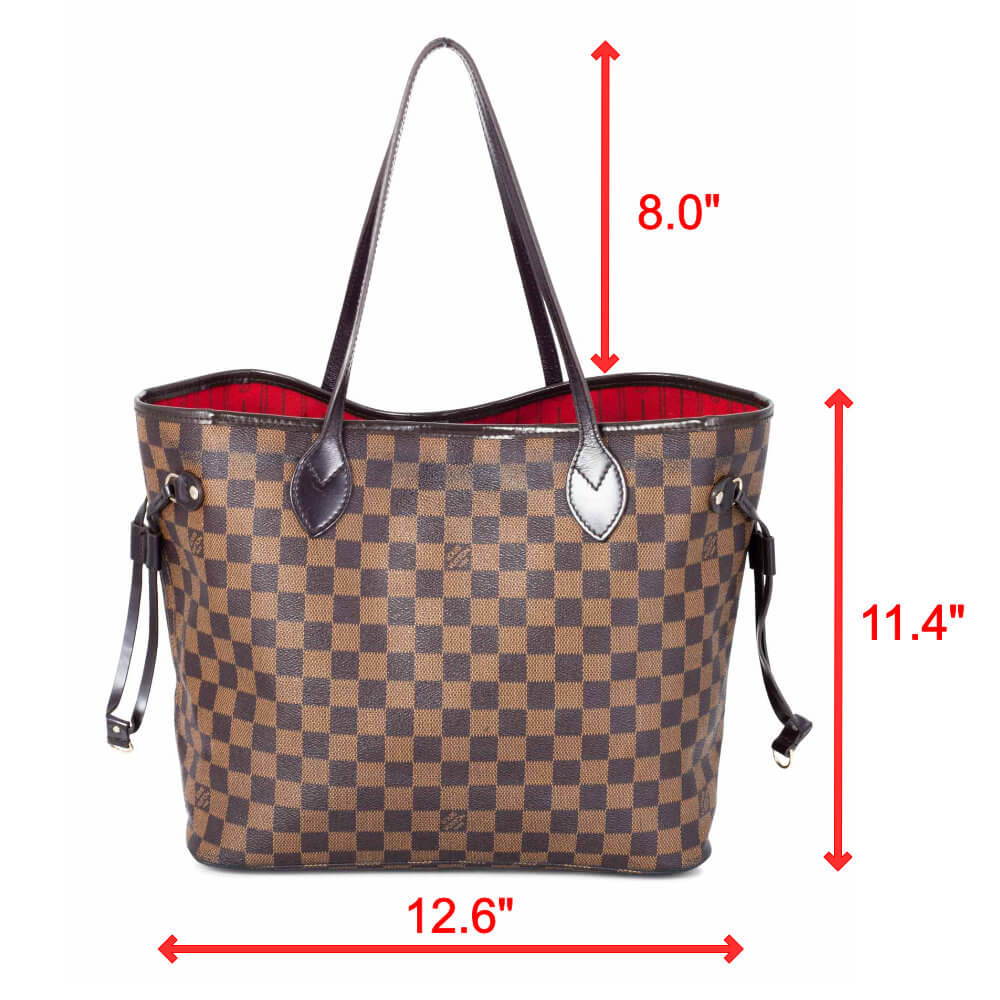 Pictured: the size measurements of the LV Neverfull MM bag.

The Neverfull MM bag measures 12.6" L x 11.4" H x 6.7" W. The handle drop is 8".
The MM (Moyen Modèle) in French means medium model. The most frequently asked question is: which is bigger, Neverfull PM or Neverfull MM? The answer is the MM version, it is 1.6" wider and 1.2" longer than the Neverfull PM. It is also approximately 3" taller.
Things that you can comfortably fit inside this model are: a sweater, your makeup bag, a tablet or small laptop, and anything else you may need for a day trip. It is a smaller style shoulder bag, and the Louis Vuitton Neverfull MM is perfect day in and day out.
At the time of writing you can purchase the classic brown monogram style MM for approximately $2,000 with a choice of colored fabric linings.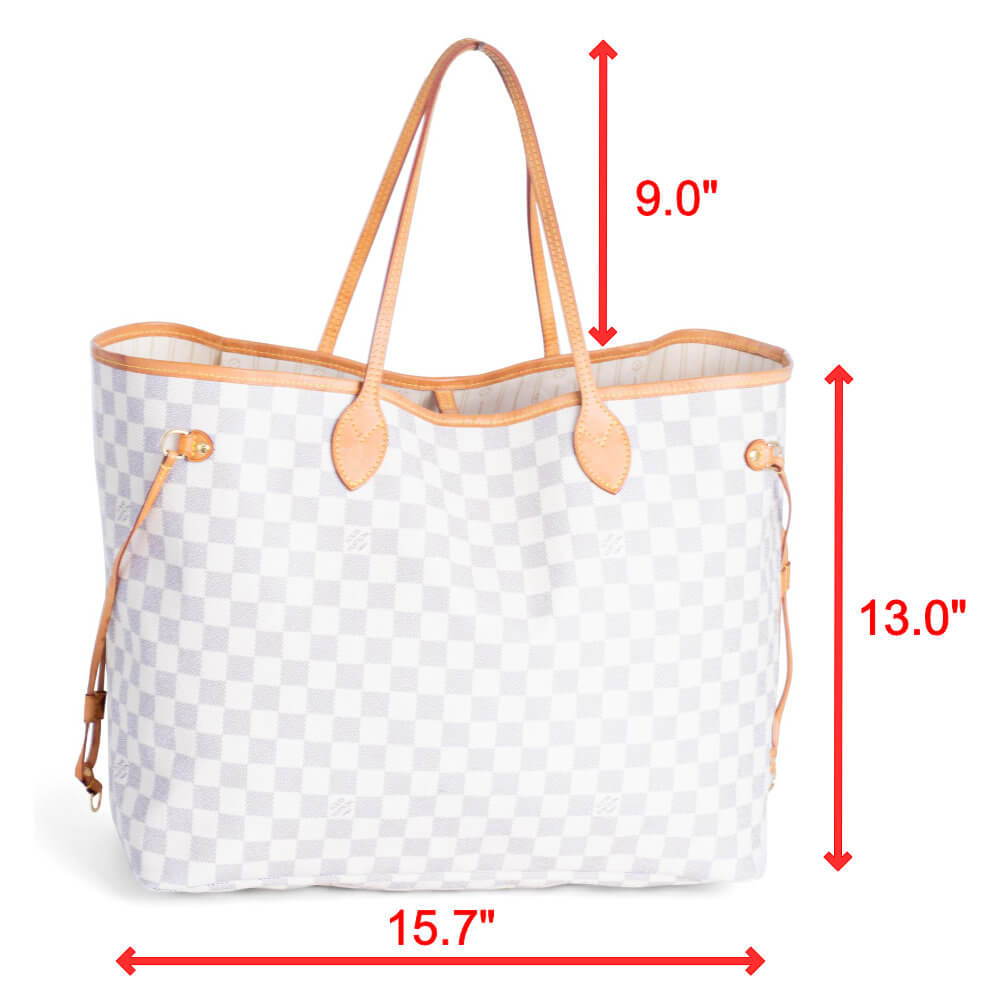 Pictured: the size measurements of the LV Neverfull GM bag.

The Louis Vuitton Neverfull GM bag measures 15.7" L x 13" H x 7.9" W. The handle drop is 9".
The LV Neverfull GM is the largest of the tote bags in the Neverfull range. It is understandably one of the most popular because of its versatility as both a day bag and as an essential piece of luggage when traveling.
The GM is 3 inches longer than the MM version, and this makes it the perfect airport carry-on. You can fit most full-size laptops inside, two sweaters at a time, or maybe you are planning a day out with your baby? The Neverfull GM size is an excellent bag for all your childcare supplies.
Currently, you can purchase the classic brown monogram Neverfull GM for $2,100. At the moment, US locations only have two color way options: peony and beige.
The LV Neverfull Size Comparison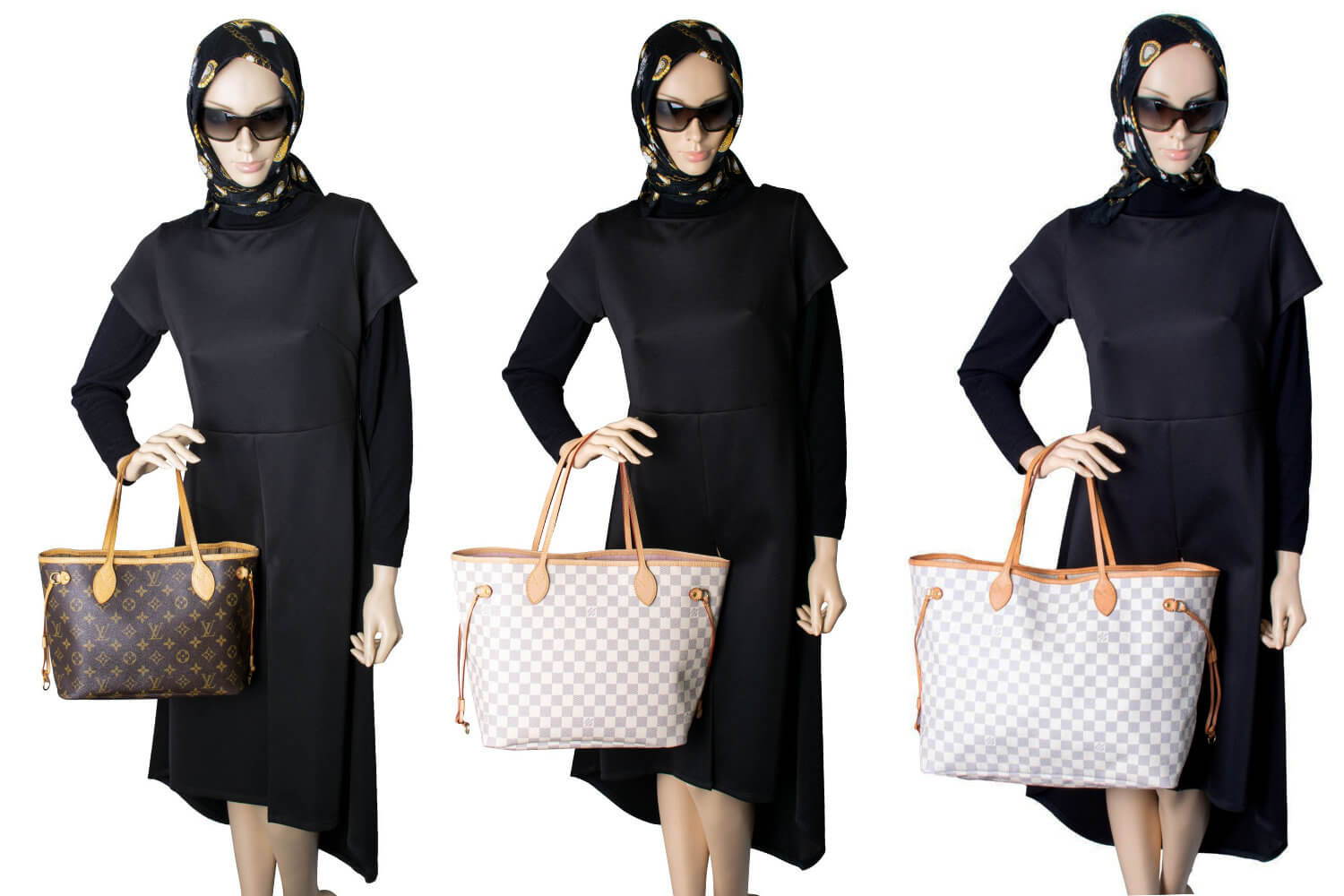 Pictured left to right: LV Neverfull PM, MM and GM bags on a mannequin. The mannequin is 5'-8" tall.

You can compare sizes of the LV Neverfull bags by referencing the chart below.
| | |
| --- | --- |
| NAME | MEASUREMENTS |
| PM (Petit Modèle) | 11.4" L x 8.7" H x 5.1" W |
| MM (Moyen Modèle) | 12.6" L x 11.4" H x 6.7" W |
| GM (Grande Modèle) | 15.7" L x 13" H x 7.9" W |
Pictured left to right: Louis Vuitton Neverfull MM and GM bags with their dimensions.

Both these wonderful Louis Vuitton tote bags are classified as 'large' and 'relaxed' in style. It can be challenging to decide which model you wish to invest in. The good news is, due to their functional design they will both suit day-to-day activities.
In reality, if you are already buying a luxury brand item, the difference in price of merely $100 is not going to break the bank.
As we have mentioned, both will fit a laptop or tablet in them, and if you are having a more informal day you can easily fill them with snacks, books and a spare cardigan. For a weekend trip the LV GM is a preferred option. We believe it's as good as Chanel Supermodel Weekender tote - which is really saying something!
To completely understand the differences between the MM and GM you can refer to our size chart above. Both of these wonderful bags have a bag organizer that you can purchase from Louis Vuitton, or you might prefer the bag liner (to protect the fabric from spills or stains).
The straps are slim and fit over-the-shoulder, but don't let this fool you – the GM size is made to carry up to 200 pounds (90kg). Because you can comfortably take the MM or GM totes anywhere, these two sizes are often popular with new moms or parents with young children who need to pack wipes, food and diapers.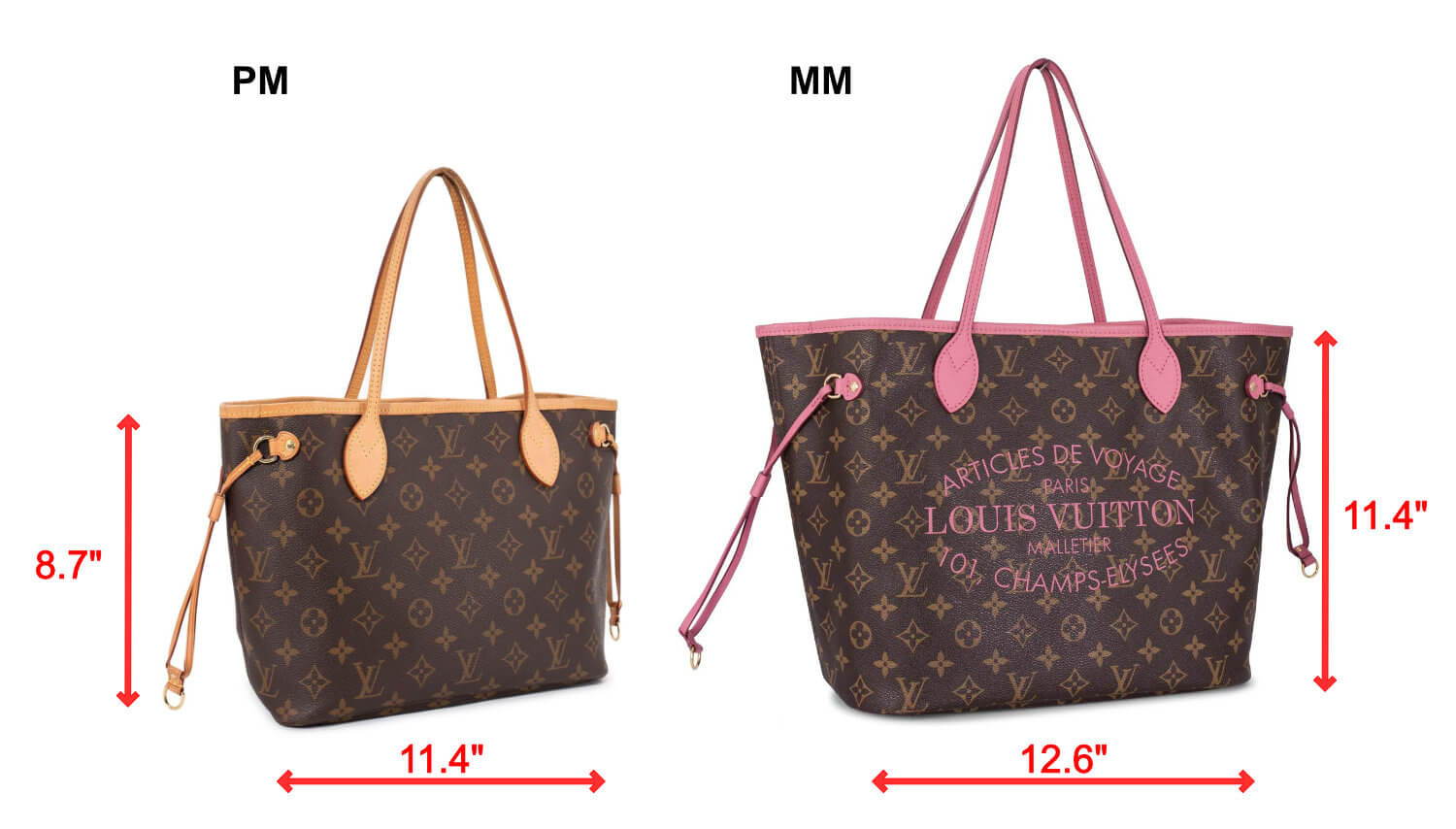 Pictured left to right: Louis Vuitton Neverfull PM and MM bags with their dimensions.

Are you considering buying a smaller tote bag so that you can double it up as a useful purse? The Neverfull PM (priced at approximately $1,960) from Louis Vuitton might just be your best option!
There is a smaller size that sits below the PM, it's called the BB (Baby Bandoulière), though this one is more of an accessory than a tote.
The main benefits of having a PM size bag are: you can bring it along to formal and informal events, it is easily stored within other bags or luggage, it is a more elegant look than the larger totes in the Neverfull range, and you can still fit in the essentials such as your phone, wallet and a few make-up items.
It may not be ranked the 'most popular', but it is certainly chic.
What Is The Most Popular Neverfull Size?
People often ask us which Louis Vuitton Neverfull is most popular? The bag has been around for over a decade, so the answer is always changing. The MM (medium) size has been by far the most popular as of late.
Why could this be? If you take a look at the photos of the bags side-by-side you will see that there is a big size difference between the PM and the MM, and not much of a step up to the GM.
This means, that unless you know you need a bigger bag for daily use, the LV Neverfull MM will fulfill your needs, and is small enough to function as a handbag or a tote.
The History Of Louis Vuitton Neverfull Bag
How Did Louis Vuitton Come Up With The Neverfull Design? In 2005 (just two years before Neverfull launched), Louis Vuitton reopened its most famous retail branch in the Champs-Élysées, Paris. The Neverfull range then became a cornerstone stock item in that store and across their global franchise.
The exact design of the tote was made to compete with another luxury brand Goyard (Maison Goyard), who had a bag that was flying off the shelves despite the large price tag. The Goyard 'Saint Louis' tote was about to meet its match...
Originally, the Neverfull range was designed to be a beach bag, and as its popularity grew people began to use it for more diverse options. You can see its original concept through the unique features – they are made to fit your perfect seaside picnic, book and towel.
Each Neverfull bag has the option to be fully reversed! Having a reversible almost waterproof bag with a strong lining is something that most women and families seek out.
Many wonder what are Louis Vuitton Neverfull bags made of? You may be interested to know that the bags are not fully made of leather (unless you choose that specific option). The patterned bags are made from PVC-coated canvas fabric, which is extremely durable and easy to clean and care for. The inside liner is also fabric, and the handles/trim are the only parts made from cowhide leather.
The patterns are always being refreshed, with the most iconic being the brown Louis Vuitton Monogram design that we have all come to know and love. This echoes the original luggage patterns from the 1930s. You can also search online and find many different versions of the monogram canvas, and some completely original new looks too, such as the highly collectible Takashi Murakami collections.
The best thing about the Neverfull range is that each bag comes with an attached clutch, so you'll never have to search through your contents again for your keys, phone or cards.
The cost associated with high-end luxury products can sometimes feel like a barrier to people on a budget. We are pleased to reveal to you that authentic Louis Vuitton Neverfull bags really do live up to their name – they feel as if they're never full!
Not only are they a great investment for your wardrobe, they can also be used in so many different ways that you will find yourself taking your Neverfull out every day.
Something else to consider is the immense value held by these popular items. You may wonder if the depreciation of your bag is going to be quick; in our experience it is quite the opposite. The resale value of a Neverfull MM or GM this year is close to the purchase price when buying brand new.
Add to this the fact that the style and range have endured over 15 years, and you can be sure that this bag becomes more than a piece of luggage: it is your very identity.
Comments
Right