What is Refashioning? | The CODOGIRL Guide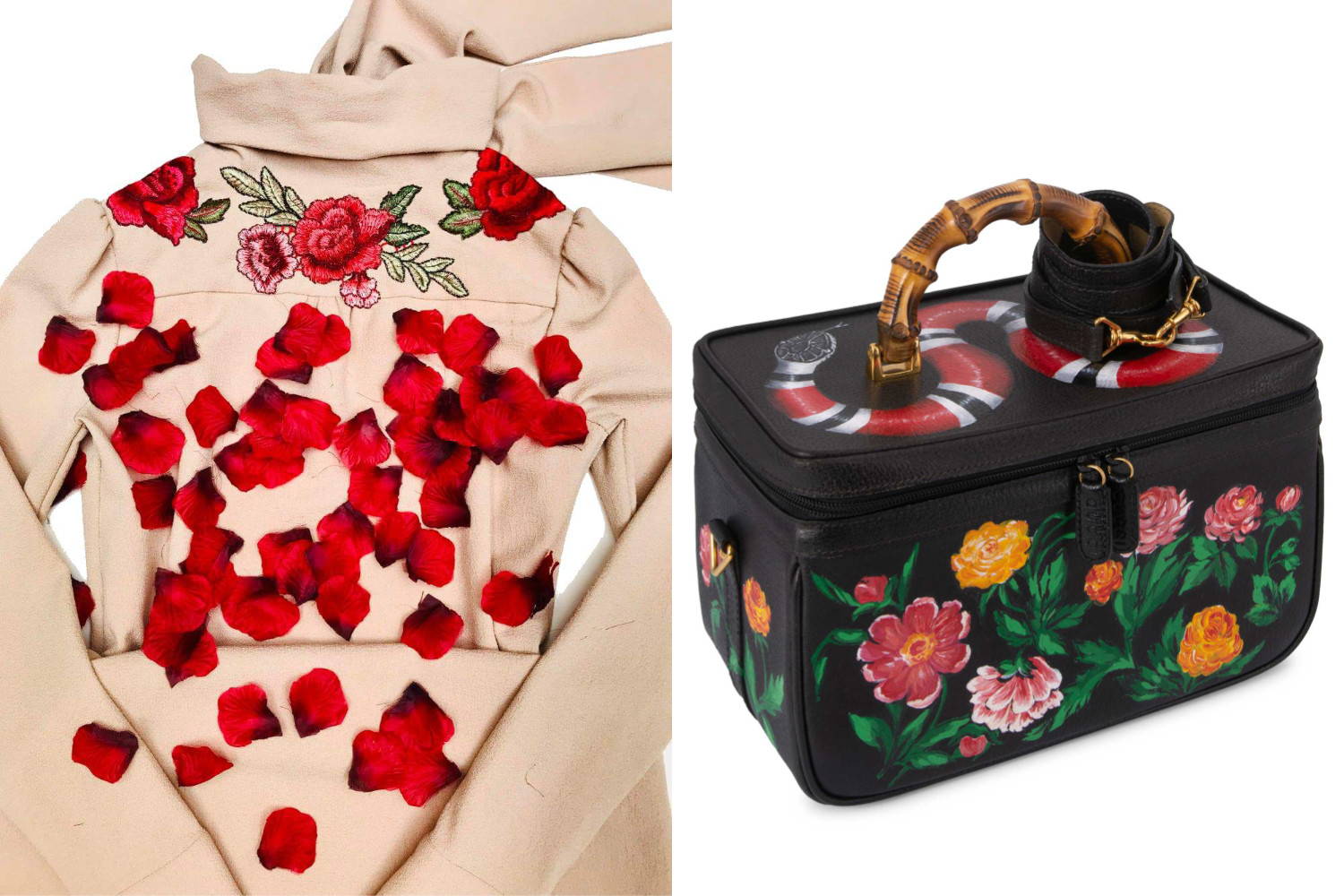 Left: Chloe vintage hand-embroidered refashioned dress. Right: Gucci leather hand-painted bamboo vanity bag.

The buzz-word for the current economy is sustainability. When we think of something sustainable we often look at forms of energy, or food packaging, and farming methods – so what has this got to do with fashion?

The Definition of Refashioning
The word refashioning doesn't have to be applied only to the style industry (even though fashion is in the spelling). Its true meaning is "to give a new form to something". The key word here is 'new'.
So, how is this different from upcycling an item of clothing? When you recycle or upcycle something you are "reusing discarded objects or materials in such a way as to create a product of higher quality or value than the original." While upcycling is a part of the refashioning process, they are two separate methods.
For example; let's say you find a dress in a thrift store. You purchase the second-hand dress with the intention to wear it – this is recycling. You want to fix a few of the seams that have unraveled, and add some new buttons before you use it – this is up-cycling...
Then you realize that you could use the bodice of the dress as a top in it's own right, and turn the skirt of the dress into a separate stand-alone piece. This part of the process is technically refashioning.
In the media, refashioning is now a term that has actually come to mean all of the above. And we love it.
Why is refashioning on the rise?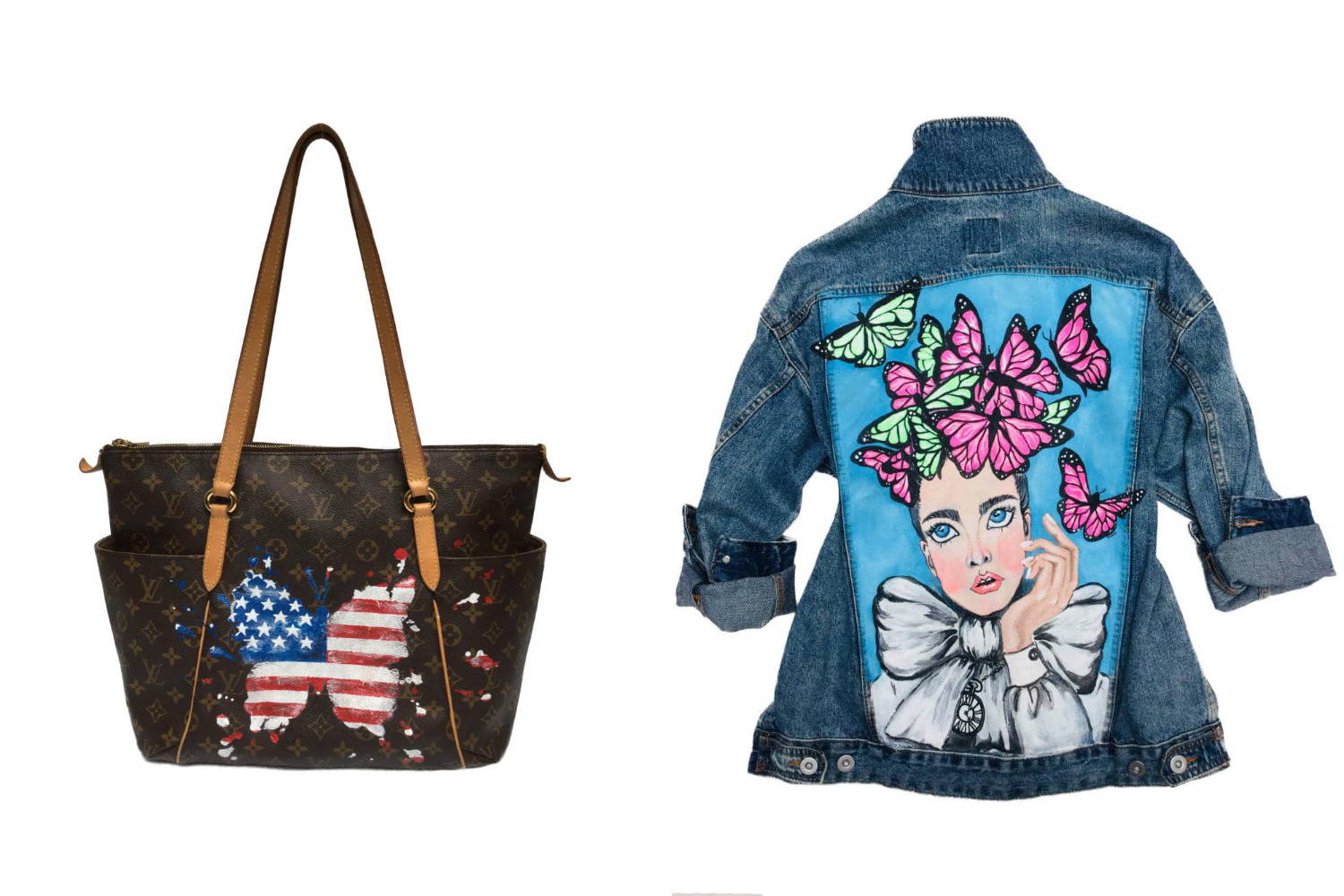 Left: Louis Vuitton monogram hand-painted Wonder Woman bag. Right: custom vintage denim hand-painted jacket.
Reusing old clothes used to be a cost-saving method for families who wanted to make their dollars stretch a little further. Growing children to feed and clothe meant hand-me-downs and repurposing items to save you buying new ones.
These days, refashioning is seen more as a choice than a necessity. The negative stigma is not attached to wearing last year's LBD to a glitzy restaurant, or sneakers from a decade ago to the movie theater.
This increase in 'recycled' clothing (and the decrease in condescension) comes from a newly-found common understanding that fashion is there to be used and admired. There will always be pieces of historic interest and clothes that hold significance as concept pieces, however, most items of clothing perform a function. They are there to be worn.
In a society where projecting your own unique image is celebrated, 'retired' items of fashion are simply relabelled as retro, vintage or antique. Even century-old fur coats are coming out of the attic; with the caveat that they are refashioned!
The joy of expressing yourself in a world of unadulterated decades of style isn't the only thing that has led to the rise of refashioning. In 2019 the United Nations officially bought to our attention the dire state of the environmental affect of 'fast fashion'; our disposable mindsets.
According to a World Economic Forum report (2020) more than 85% of our old clothing ends up being incinerated, or worse still, in a landfill site. Not only that, but 10% of the world's total carbon emissions come from the manufacturing of clothing or fashion goods.
Another statistic from the report tells us that between the years 2000 - 2014 the amount of clothes being bought by each person increased by 60% (on average). Now, 10 years later, with online access to companies like Wish and SHIEN at our fingertips it is almost certain that the upward trend has continued.
This is causing a huge disruptive impact on the environment, because while people are purchasing more clothes... they are only keeping them for half as long.
The negative effect of fashion on the environment, combined with our creative imagination (with an added dash of economic turmoil thrown in for good measure), means that reusing your old clothes has become the norm.
Refashioning and sustainability in luxury fashion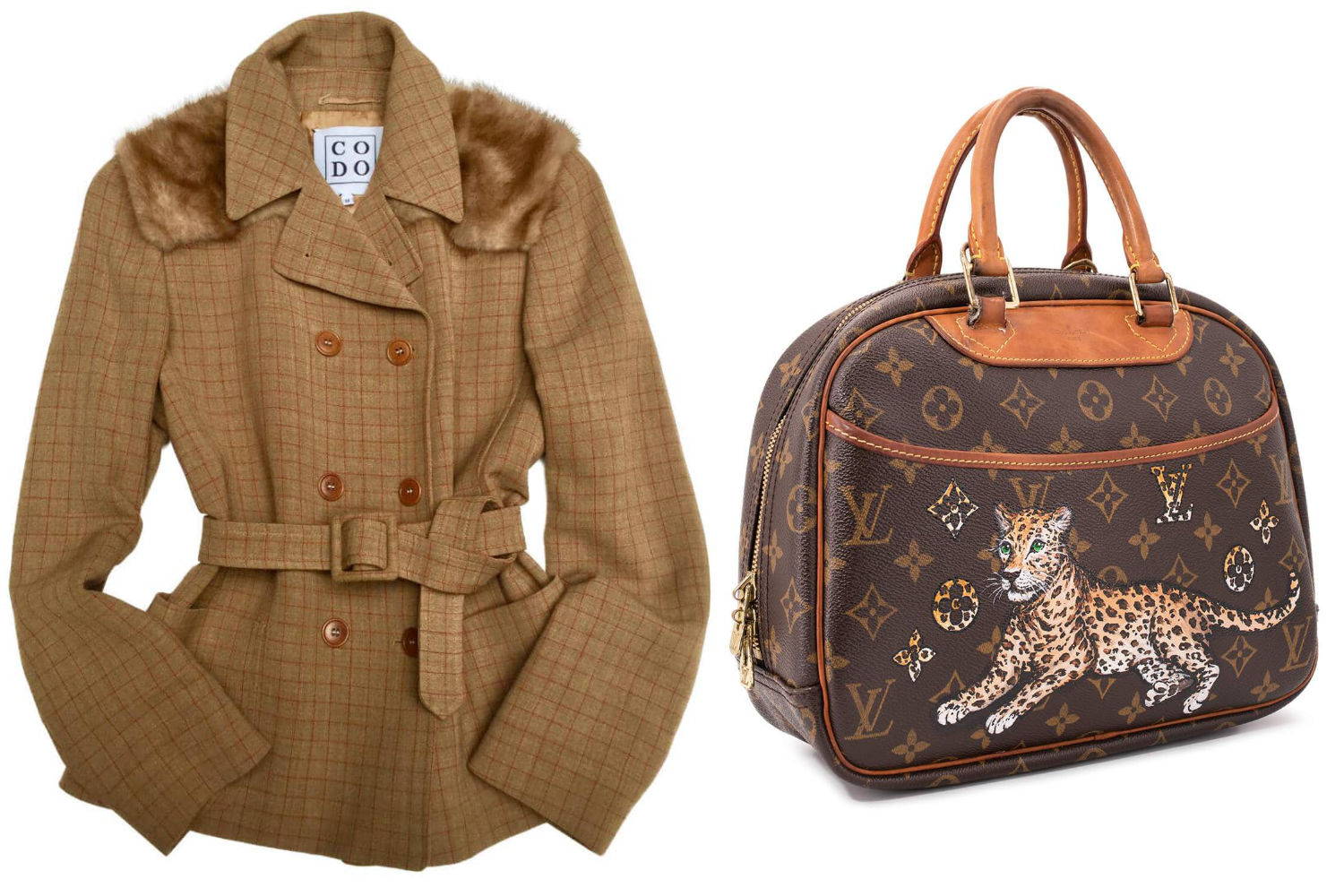 Left: vintage wool plaid mink refashioned jacket. Right: Louis Vuitton monogram hand-painted Leopard Deauville bag PM.
Looking through the lens of the luxury fashion industry, you will probably wonder how it fits into the refashioning concept, and indeed, why it even should be included in sustainability! Renowned luxury fashion brands often produce small runs of style lines, with a focus on quality not quantity. This is an interesting element of the fashion and style sector as a whole.
You are correct in recognizing that luxury items are manufactured in a different way to 'fast fashion' brands, but they can still cause issues with their carbon footprint. Not every fashion house can produce each item by hand or from a small premises.
Factories and mass-production methods may still need to be used, even if it is less often. Items still need to be flown or shipped across the world to licensed sellers. These actions all have environmental consequences. They also add to the cost of your garment.
In a report called "Consumers Unmasked: Stage 3" from Epam (digital engineers) they discovered "...American and European consumers showed us that sustainability matters in buying decisions. Consumers talked about upcycling, repairing and buying 'used' more than ever before." This brings us to CODOGIRL and luxury fashion.
The internet has come a long way from eBay and Craig's List ruling the recycling roost. Consumers interested in high-end fashion no longer have to trawl through digital pages of dubious adverts.
You're here now, looking at refashioning in the form of luxury goods. What made you seek out second hand Chanel or recycled Hermes? Is it the price point? Are you excited to own and display a bag that would have once been flung into the bottom of a closet to be ignored for twenty years?
Maybe it's because you understand that refashioning is not just a fad. It's here to stay and helps everyone, even the planet.
At the time of writing, Google search displayed over 1,500 results for "recycled Louis Vuitton" and the availability of the items was not restricted to marketplace sites such as Etsy. Selfridges of London offered a "Louis Vuitton recycled-nylon backpack" and many stores worldwide offered Charlie "Louis Vuitton's first sneaker with 90% recycled material."
As we just mentioned, there are so many different reasons why people choose to recycle clothes. The whole journey from finding the item to wearing the finished product can give you an enormous sense of achievement.
Whether you choose to refashion in the most simple way by purchasing a second-hand item, or whether you go all-out and use material from an item to create something entirely new – let's see why you should consider refashioning...
One for the creatives here – by reusing old clothes you will often find amazing fabric with unique patterns and textures. Some 'fast fashion' fabrics went out of style quickly, leaving few examples behind. Finding these quirky clothes and harvesting the material from them (also called Deadstock Fabric) means you can be the envy of your friends, wearing something completely handmade.
Saving money isn't going to be far from someone's mind when it comes to buying anything, be it food or fashion. Refashioned clothing will never be as expensive as buying new because it is further down the consumer chain. Someone has already paid the dues to the store, the workers and transport team.
Also, there will probably be some wear or change in the item that means it can't be classed as 'brand new'. Sun-damage, a loose hem, a scuff on a handbag – these all need to be taken into consideration with pricing. Happy haggling!
Rescue that exclusive item, and preserve a piece of history. You may think that this only relates to luxury fashion, however, limited runs of styles are a common theme from Walmart to Christian Dior.
If you spot a discontinued item of clothing in a thrift store, a garage sale or online you never know if it's the last one publicly available. You could be saving that memento from being forgotten forever – and possibly make yourself a fortune if it's in high demand!
Inspiration from CODOGIRL
Here's the part you may not know – CODOGIRL has been re-imagining fashion since 2010. That's more than a decade of vintage and retro fashion adjustments bringing old clothing back to life. "With our couture know-how and a quick Q & A, our team of fashion engineers will turn something outdated into a contemporary sensation that Coco Chanel herself would have been proud to wear. Something sentimental deserves a chance to become a masterpiece!"
Due to the nature of the service this is reserved for local walk-in customers to the store.
What will the future hold for refashioning and the sustainability movement? This 'trend' has been quietly gaining traction in the background of our lives for centuries. If you consider that 500, even 1,000 years ago our ancestors were reusing and repurposing old clothes, it is not far-fetched to conclude that humans will always use their ingenuity to upcycle items.
With the cost of living escalating across the globe, and more incentives to protect the planet from excess carbon emissions, the cult of refashioning is here to stay – now that's something to smile about!
Comments
Right