How To Sell Your Hermes Bag
Whether you bought your Hermes bag brand new or received one as a gift - or, perhaps, inherited one- you should know the bag has either retained much of its value or appreciated over time.

Hermes is the pinnacle of luxury leather craftsmanship, and greatly limits the production of its gorgeous handbags, which, in turn, keeps the demand very high. For this reason, the Hermes resale market is strong - good news for you if you want to sell your bag.
However, depending on how you go about it, selling your pre-owned Hermes bag can either be incredibly simple or a complicated process. If you're interested in selling your Hermes handbag, read more for some helpful tips.
3 Simple Steps to Selling your Hermes Bag
1. Decide whether you want to sell it yourself, or go with a resale company
2. Choose the right resale company
3. Sell your bag and get paid


1. Decide whether you want to sell it yourself, or go with a resale company.
If you have experience selling Hermes handbags, or if you know someone wishing to buy the bag directly from you, then selling your Hermes handbag yourself is likely the best option. However, if you are a first time seller, there are many considerations you should make when selling your bag.
First, put yourself in the buyer's shoes - what will they need to fully trust you and give you several hundreds or thousands of dollars. They will require concrete proof of authenticity: original receipts and authenticity paperwork that came with the bag can help a lot. If you don't have that, you may have a hard time convincing a buyer.
Even then, these are easily recreated by expert counterfeiters and many buyers are not fully convinced by pictures showing authenticity cards - they much prefer a money-back guarantee.
Remember, it is illegal by the US Federal law to sell counterfeit handbags in the US, so make sure you are 100% certain your Hermes bag is authentic or you can potentially be held criminally liable.
Check out our Hermes Authentication Guide if you are uncertain of your bag's authenticity, or want to learn some tips and tricks to authenticate Hermes bags yourself.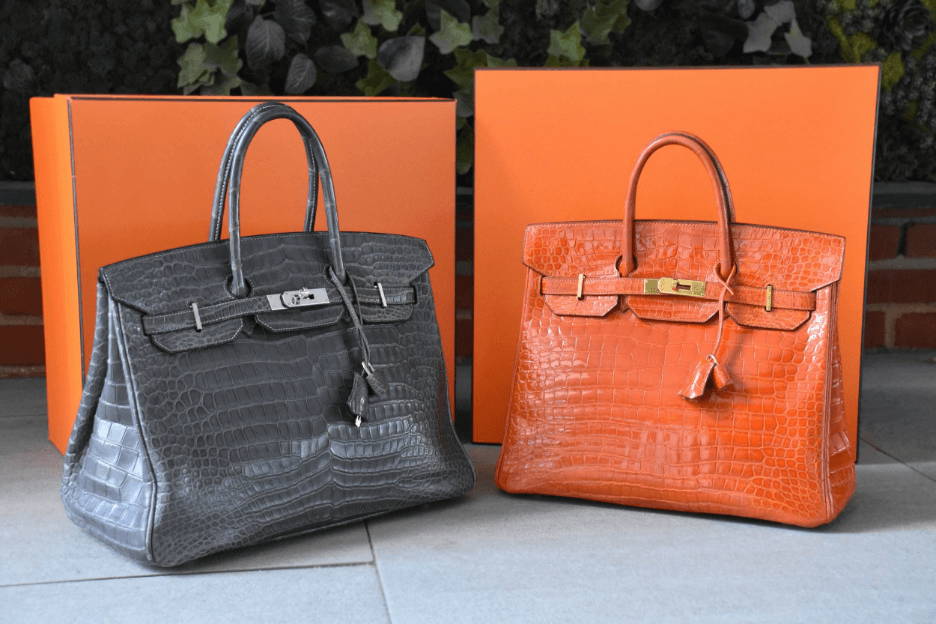 Caption: two authentic Hermes Birkins in matte grey and shiny orange Porosus Crocodile leathers. In this kind of condition, with the original box and clochettes, the Birkin won't stay on the market for long! Porosus Crocodile is the rarest and most sought after Hermes leather, reserved for only the finest Birkins.
The buyer will also expect top quality photographs showing every angle of the bag and any imperfections, scratches or wear. If they buy the bag from you and upon receiving it see any unadvertised flaws, they will be an unhappy customer.
When selling by yourself you should be prepared to have to deal with potential credit card chargebacks and returns. Selling your pre-owned Hermes yourself can be pretty risky if you are not prepared for potential charge-back scammers looking to steal their next bag or dealing with the risks of shipment, and in some cases also return shipment.
If you wish to sell your Hermes bag hassle-free, then going with a reputable resale company is the best way to go. Your bag will be professionally listed on a website with other similar handbags, exposing it to thousands of interested buyers in one place.
The reseller will handle the photos, the professional listing, order fulfillment, shipping and customer service. They will be responsible for any returns, shipping costs, and usually offer a money-back authenticity guarantee - this is what gives buyers the peace of mind they need when shopping for their next Hermes bag.

Caption: A beautiful example of an Hermes Retourne Kelly 25 in Bronze Dore. The bag is in flawless pre-owned condition, as you can tell by the bottom corners. Hermes Kelly bags in brown color with gold hardware are extremely hot on the resale market, easily fetching over $10,000 in great condition.
2. Choose the right Resale company.
If you've decided you want to avoid the hassle and liability of selling your Hermes handbag on your own, and want to sell with a Reseller, you need to make sure you go with the right one. A Designer Resale company is dedicated to the resale of luxury designer brand items, and has ample resources to sell your bag for the best price.
While many have physical locations - stores or showrooms - the easiest way to sell your Hermes handbag is through an online reseller. Here's what to look for:
Not every reseller is the same, nor is every reseller best equipped to sell your precious Hermes handbag. Some resellers are large corporations while others are smaller businesses; some are general and sell everything while others specialize in handbags or specific designer labels.
There are advantages to every kind, but typically larger resellers are more quantity oriented - in other words they handle such large volumes that not every item receives the attention that it deserves. Also large resellers are driven by their investors to sell off inventory as quickly as possible - often heavily discounting the merchandise, which may result in you getting a lower price for your bag.

Caption: Handbag Heaven! Inside CODOGIRL's showroom located in Greenwich, CT, many beautiful bags from top luxury designer brands are on display. These same handbags are also listed on the website, but being in the physical showroom also gives in-store clients the opportunity to shop during or after their private appointments.



Many smaller resellers cater more towards the quality of their customer relationships and tend to be more selective of their inventory. You can expect better, more personalized customer service from a smaller reseller, and a better price for your Hermes bag.
Smaller resellers are also more dedicated to their client list, which often include high profile repeat buyers who put requests in for specific handbags. These clients trust the reseller's authentication and business practices and are willing to pay higher amounts for the sale of your handbag, compared to a buyer on a large reseller's website.
Be sure to do your research on the reseller before deciding to sell your valuable Hermes with them. Make sure the reseller has a reputation. Has it been in business for at least several years? Read online Google Reviews to see what other sellers have said about their experience.
Most importantly, does this reseller offer a solid money-back Authentication Guarantee? Many larger resellers will have in the fine print a "30 day authenticity guarantee", or a guarantee lasting only within the return period. The most trustworthy resellers will offer a no-frills Lifetime Authenticity Guarantee - this gives the peace of mind required for Hermes buyers and proves the company's transparency.
Finally, resellers offer different commissions, or payouts, for the sale of your handbag, typically ranging from 50%-80%. This depends on the amount of the sale - small-ticket items tend to have lower commission, while expensive Hermes bags can earn you up to 80% commission.
Be sure to read up on the company's commission plans so you have a better idea of what you will earn for your bag.
Some companies have simple and transparent commission structures with no fees while others have complicated cumulative commission structures with expiry dates. Some resellers will subtract from your payout all sorts of shipping and other fees. Here is an example of a simple and transparent commission structure with no fees.
3. Sell your bag and get paid!
Once you've chosen a designer reseller, it's time to follow a few steps to sell your bag.

Firstly, snap a few pictures of your handbag with a smartphone: from the front, back, sides/corners and inside. Make sure the bag is clean and in good lighting to show off all its features!
Next, email or submit the pictures to the reseller, which will then provide you a cash quote or a consignment price estimate and a shipping label should you choose to proceed. Neatly package and ship your bag using the reseller's shipping label. Finally, sit back while the work is done for you, and get paid!
To summarize, here are the things you need to keep in mind when setting out to sell your Hermes bag:
If choosing to sell with a Reseller, remember:
Do your research: find out what commission is offered, read the authenticity guarantee, check out Google reviews and see what kind of reputation the reseller has established.
Be wary of hidden fees - you will see some Resellers hiding all sorts of hidden fees in the fine print, like fees for handling, processing, returns etc. To get the most out of selling your Hermes bag, be sure to choose a reseller with no hidden fees.
Comments
Right